Tablets and Chromebooks are hot, towers and desktops are not: El Reg combs through Q3 PC numbers
Flippin' Dell! All major vendors lifted by pandemic purchasing frenzy... except one
Chromebooks, tablets, and ultraslim notebooks dominated global growth of PC shipments into retailers and distributors in Q3 as demand for desktops melted away, according to the latest stats from Canalys.
The total market for computing devices grew 22.7 per cent year-on-year in the three months ended 30 September to 124.4 million units.
The biggest jumps were for Chromebooks, up 122 per cent to 9.4 million, while detachables (including tablets) jumped 88 per cent. "Both categories came to the fore in the context of affordable computing as the pandemic continued to positively influence PC ownership and usage," said Canalys.
Ultraslim portables and convertibles were up 57 and 27 per cent respectively, mobile workstations grew 3 per cent, and clamshell notebooks by 1 per cent.
As for desktops? The only glimmer of growth came from All-In-One PCs, up 7 per cent. Desktop workstations slumped 27 per cent and, worse still, tower and small desktops were down by 33 per cent.
Lenovo led the overall sales stakes by shipping 23.5 million tablets, notebooks, and desktops, up 11.6 per cent, closely followed by Apple with unit sales of 22.075 million, up 40.9 per cent: in tablets alone, Apple flogged 15.23 million iPads, up 47 per cent year-on-year.
"Tablets have come back from the dead as they deliver the perfect balance of mobility and computing power at a wide range of price points during such a crucial time," said Victoria Li, analyst at the research house.
The market has declined continuously over the past five years, according to Canalys numbers. Samsung and Huawei were the other major tablet players in Q3, growing to 9 million and 5.1 million each, up 79.8 per cent and 38.1 per cent respectively.
HP held onto third spit with shipments of 18.68 million, up 10.8 per cent, lifted in part by a whopping 116.9 per cent growth of Chromebooks to 3.235 million, or more than a third of all Chromebooks sold into channels. The majority of HP's Chromebooks were shipped to the US.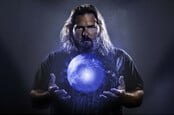 Death of the PC? Do me a favour, says Lenovo bigwig: 'I'm expecting the biggest growth in a decade... for 2021'
READ MORE
"Chromebooks emerged as the centrepiece of the education segment's digital response to the COVID-19 pandemic," said Ishan Dutt, analyst at Canalys.
"Uncertainty in how school terms will proceed remains at the forefront of educators' minds in the face of secondary lockdowns and protocols related to dealing with infections within a school's population."
The relatively cheaper or "budget friendly" Chromeboks hit the sweet spot, being an "easy to manage contingency," Dutt added.
As for the fourth biggest PC device player in the planet? Dell slipped 0.8 per cent to just over 12 million units. Dell told us previously, when the headline Q3 PC numbers were published in October, that it steered clear of orders where profit margins were less obvious.
COVID-19 has inflated the PC market, growing in Q3 at levels not seen for nine years. Lenovo reckoned it could have sold more product to customers had it not been for component shortages (CPU, ICs, and panels) restricting the volumes available.
Lenovo previously said the total available PC market will continue to expand based on the work and learn-from-home trends but that might be wishful forecasting from a business reliant on PCs. ®