This article is more than 1 year old
Apple to halve commission for developers turning over up to $1m in sales via App Store
Cupertino's cut will shrink to 15% for small coding shacks from 1 January
Updated Apple has overhauled commissions charged to small developers that turn over up to $1m on paid apps and in-app purchases sold via the App Store as the spotlight shines on its policies amid ongoing litigation.
SME devs that qualify for the App Store Small Business Programme will be charged a 15 per cent commission as long as the net sales they generate from Apple's platform in the previous calendar year was $1m or less. Presently, Apple charges a flat 30 per cent commission.
"Small businesses are the backbone of our global economy and the beating heart of innovation in communities around the world," said Apple CEO Tim Cook. "We're launching this programme to help small business owners write the next chapter of creativity and prosperity on the App Store.
"The App Store has been an engine of economic growth like none other, creating millions of new jobs and a pathway to entrepreneurship accessible to anyone with a great idea. Our new program carried that progress forward – helping developers fund their small businesses, take risks on new ideas, expand their teams and continue to make apps that enrich people's lives."
The incoming scheme launches on 1 January and lands, says Apple, during a time of "unprecedented global economic challenge."
It's interesting that Apple chose the term "small business" because it was reported Apple persuaded Amazon in 2017 to make a Prime Video app for iOS by agreeing to only take a, er, 15 per cent revenue cut from the software.
Epic pressure
It also can't be a coincidence that Apple's gesture comes as myriad large developers make forceful complaints about the practises of Apple and the 30 per cent commission it charges devs.
Epic Games, the maker of Fortnite, tried to sidestep Apple's commission structure earlier this year by offering players a promo to buy in-game currency and other products directly for 20 per cent cheaper than the iOS App Store in-app price.
Apple then kicked Epic out of the App Store with immediate effect – instead of the typical fortnight grace period – and revoked the Unreal Engine dev tool. Apple claimed that Epic wanted to use its "innovation, intellectual property and user trust" for free. This led to a tit-for-tat filing of legal papers by both sides.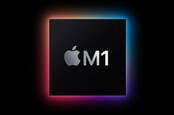 Apple Arm M1 Macs ship... tho don't expect all open-source apps to work – here's the list you need to know
READ MORE
A federal judge has already questioned why Apple takes a 30 per cent slice of developers' revenues as she ruled that Apple could not lock out Epic's access to the Unreal Engine but would not order the return of Fortnite to the iOS App Store.
The case is set to go to trial in July next year.
Microsoft has jumped into the fray by siding with Epic, while Spotify and ProtonMail also rose up against the 30 per cent commission. A source told us that Apple used to charge music publishers a 30 per cent commission on sales in the iTunes store and rolled that figure into the App Store too.
Investigations by the European Commission into Apple App Store practises may also have played a part in Apple's decision to soften its stance towards commission and small developers.
This move may not be well received by developers that generate tens of millions of dollars via the App Store. Typically, discounts are given to customers with higher volumes, just not in Apple's world.
Updated at 8.31 GMT on 19 November to add:
Andy Yen, Founder and CEO of Proton, sent us a statement that was scornful of Apple's decision to reduce commissions for small developers, describing it as a "thinly disguised attempt to escape regulatory scrutiny.
"Apple's position is essentially the following: as long as you are not big enough to seriously compete with us, you're eligible for lower fees, but once you start getting traction, we will immediately use anticompetitive pricing to reinforce our dominance. That's why this announced change by no means solves the massive problem of Apple's abusive practices that are killing innovation and immensely restricting consumers' choice.
"What small businesses need is not a slightly cheaper monopoly, but a real choice of payment methods in the App Store," he added. ®