This article is more than 1 year old
UK Prime Minister Boris Johnson pledges £12bn green economy package
Hot air? World-beating? Well, billions of the funding had already been committed earlier this year
The UK government has launched a £12bn green spending strategy which includes measures to boost flagging nuclear investment and the development of hydrogen as an alternative fuel.
A commitment to end the sale of new petrol and diesel cars and vans by 2030, 10 years earlier than planned, is also among the pledges in the government's latest effort to greenify the economy. The efforts have been met with scepticism and spoilsports are pointing out that much of the money has already been announced.
Fresh from bouncing Machiavellian miscreant chief advisor Dominic Cummings out of Downing Street, Prime Minister Boris Johnson is ready to reset the agenda, and green is the way to go, he says.
The government now promises £500m investment to help generate 5GW of low-carbon hydrogen production capacity by 2030 for industry, transport, power and homes, while the plentiful gas will be used for heating and cooking, the government said. New hydrogen production facilities will be boosted by £240m.
Although it is the universe's most abundant gas, hydrogen presents some challenges as a fuel. Most industrial hydrogen currently comes from natural gas, which releases CO2, and often relies on carbon energy sources – creating a double impact on emissions. In some cases, CO2 released in the process can be captured and stored, offering so-called blue hydrogen.
Johnson said in an article in the Financial Times today that "we will turn water into hydrogen."
Excited as we are about hydrogen buses, trains, and planes, the fuel has a long way to go before it can be broadly accepted. Reducing the cost of storing hydrogen is a massive challenge and extracting hydrogen from water by electrolysis has high capital costs, although an approach of blasting microwave radiation at a watery chemical soup may hold promise.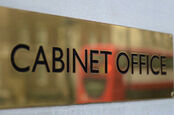 Cabinet Office takes over control of UK government data: Mundane machinery or Machiavellian manoeuvrings?
READ MORE
The government promises £525m to "help develop large and smaller-scale nuclear plants, and research and develop new advanced modular reactors." Nuclear power may divide environmentalists, but it is reliable and low-carbon, even if huge amounts of CO2 are released making the concrete used to build these facilities. The other problem is the cost. Beset by delays and budget over-runs, Hinkley Point C could become the UK's most expensive source of electricity when it finally turns on the reactors in 2025.
Tom Burke, chair of the E3G think tank, told The Guardian: "The only way to build another big nuclear reactor is if the government puts electricity bills up twice to pay for it – first to buy the concrete and steel to build it and then again to buy its electricity at far higher price than renewable generators will be charging."
Then there are electric vehicles. No more will they be bought by environmentally aware Nissan drivers or six-figure-salaried Telsa devotees. In fact, the only new cars and vans available to buy in the UK after 2030 will be electric. What's more, the government is promising a homegrown industry to make batteries.
While the electrification of personal transport has an air of inevitability about it, the government has released little detail about who will pay for the necessary charging infrastructure.
Dave Watson, CEO and founder of smart charging company Ohme, said: "In addition to charging infrastructure and battery production, we need to prioritise smart charging solutions at scale that will manage demand, balance the grid and facilitate a smooth transition to zero-carbon transport."
The 2030 target "shows a great commitment from the UK Government towards electrification – which is also one of the most ambitious in the world," said Pedro Pacheco, director of research for Automotive and Smart Mobility, within Gartner's Advanced Manufacturing and Transportation unit.
This goal is attainable, he added. "However, it also depends on the UK's ability to heavily ramp up the market penetration of EVs well in advance to make sure the market doesn't experience a shock in 2030. I am aware of some measures, like investment in charger network but it's important the initiatives go beyond that in order to guarantee a successful transition."
UK government should consider incentive or legislation to ensure car manufacturers endevour to increase sales of EVs, and provide incentives and educational campaigns to encourage consumers to make the switch, he said.
The correct density and distribution of EV chargers, providing an appropriate electric grid infrastructure, and writing electricity pricing regulation to make sure it remains affordable are other key considerations, according to Gartner.
"Moreover, it is also important to work on other areas to make sure society can maximize the environmental benefit extracted from EVs, like a very high percentage of renewable energy in the electricity mix of the country, as well as creating mechanisms to reuse or recycle EV batteries to 100 per cent," Pacheco told The Reg.
It is also important to work on other areas to make sure society can maximize the environmental benefit extracted from electric vehicles
Meanwhile, a report from New Automotive, a transport think tank, says the commitment will not be enough to help the government meet its own carbon targets.
The PM also made vague commitments about energy-efficient homes, greener maritime industries, and public transport.
Register readers may even have got wind of another of Johnson's promises to increase offshore wind energy production from 30GW to 40GW by 2030, which we wrote about in October, being re-announced today.
And, as the FT points out, the biggest chunk of the £12bn investment was £5bn for new flood and coastal defences, already pledged earlier this year.
Despite the government's commitment to a clean-energy future, the detail remains shrouded in smoke. ®