When humans return to the Moon in '2024', HPE would like us to remember: We built the computer that simmed this
What could go wrong with NASA's SLS rocket? The Aitken system is finding out
Amid NASA's plans to put boots on the Moon by 2024, Hewlett Packard Enterprise is blowing its own trumpet that simulations in preparation for the Artemis mission have been carried out on its Aitken supercomputer.
The HPE-built high-performance computing (HPC) system has been crunching complex calculations to better understand the launch environment at Kennedy Space Center, Florida, and presumably all the things that could go wrong during the booster separation event for NASA's monstrously delayed monster rocket, the Space Launch System (SLS).
The SLS is supposed to help fire "the first woman and the next man" at the lunar South Pole in less than four years' time despite its first test flight having been pushed back yet again to 2021.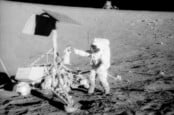 Shock news: NASA lunar ambitions might be a bit too... ambitious
READ MORE
Obviously, working through all these things on intensely powerful computers before strapping a couple of astronauts to an explosive tube and hoping for the best is a good call, and HPE is more than happy to be seen contributing its HPC chops to the project.
Aitken was built by HPE in 2019 specifically to support NASA missions, and lives at NASA's Ames Reasearch Center in Mountain View, California. The system takes up the first of 12 computer modules in the NASA and HPE-developed Modular Supercomputing Facility (MSF), where it drives "greater efficiency" and "significantly" reduces electricity and water use, according to the tech biz.
"As a result, NASA's Aitken supercomputer, during its first year of operation, consumed only 16 per cent of the energy needed for cooling, saving over $100K in costs and 1.4 million kilowatt-hours," HPE said. "It also reduced water usage, used to cool the supercomputer, by 91 per cent, saving over one million gallons of water per day."
As spending on the SLS approaches £17bn, $100,000 may seem like a drop in the ocean but, hey, every little helps, right?
HPE also announced it will upgrade Aitken with its aptly named Apollo systems, an HPC platform "purpose-built for compute-intensive modelling and simulation needs" by adding nearly 8,000 second-gen AMD Epyc processors to boost computational power to 4.7 PFLOPS. The expansion is set to come online in January 2021 to support "NASA's ongoing research involving computational fluid dynamics (CFD) that are critical to understanding aerodynamic events," HPE added. Aitken otherwise uses Intel Xeon Scalable chips.
Thus far, the supercomputer has helped develop an aerodynamics database to simulate possible positioning of the SLS's two solid rocket boosters (SRBs) during separation since NASA has considered that they could strike the core centre or each other as they fall away. By all accounts, a bad thing for astronaut safety.
More navel-gazing research powered by Aitken has focused on Kennedy Space Center's Launch Complex 39B, where the SLS is tipped to lift off. Here, NASA's Launch, Ascent, and Vehicle Aerodynamics (LAVA) team has been using the system to simulate waves from ignition overpressure (IOP) and duct overpressure (DOP), which are caused by the rapid expansion of gas from the rocket nozzle during launch. LAVA is investigating the sims to see how they interact with the launch vehicle and identify potential dangers.
HPE's work with NASA is no mere dalliance. Last year the firm's Spaceborne Computer returned to Earth after 615 days on the International Space Station, where it demonstrated that high-performance systems can indeed survive the hardships of space. The Register has also spoken at length with two HPE boffins, Bill Mannel and Eng Lim Goh, about both Spaceborne and Aitken, as well as the general difficulties of computing on the final frontier.
Space is cool. Though we may have become desensitised since the first Moon landings of the late 1960s and early '70s, there's no denying the feats of engineering involved and it would be a major achievement for NASA to prove that it can do it all over again under such different conditions.
Clearly, HPE would very much like to be seen as cool too. ®