This article is more than 1 year old
BBC picks SiFive RISC-V chip for Doctor Who programming-for-kids kit – with Jodie Whittaker narrating
Time Lord tapped to introduce youngsters to hardware and coding
The BBC has created a Doctor Who-themed miniature computer, powered by a SiFive RISC-V system-on-chip, to help teach children how to program.
The Doctor Who HiFive Inventor will ship with a bunch of bits and pieces to get kids hands-on with electronics and programming: cables and connectors to interface with the outside world, various sensors, an LED color matrix, push buttons, a battery pack, and Wi-Fi and Bluetooth connectivity.
Crucially, it includes programming lessons narrated by Jodie Whittaker, who plays the thirteenth Doctor in the smash-hit family sci-fi series, bringing a familiar and reassuring voice to those attempting to embark upon what can seem a baffling new universe of lights, signals, and error messages.
The aim, to be clear, isn't to provide a complete general-purpose computer, but instead a beginner's learning aid, along the lines of the BBC Micro:bit. You can use the Tynker programming platform to control it, using visual building blocks to form programs, or written code, such as Python, if you're more advanced.
The circuit board, as you can see, is shaped like a hand, and comes with a case. It's essentially a SiFive Learn Inventor board, which was launched last year, with BBC and Tynker branding, plus the aforementioned components, and Doctor Who-themed case and teaching materials to encourage kids to give tech a try.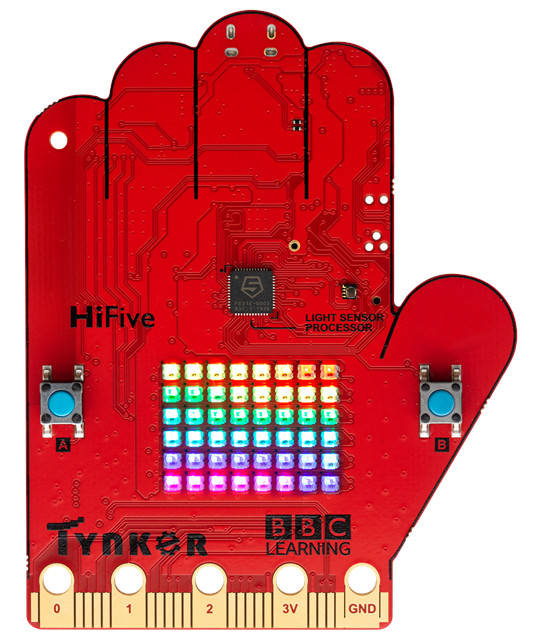 The HiFive Inventor board ... Source: SiFive
At the heart is an FE310-G003 system-on-chip designed by SiFive; its documentation is here. It sports a 32-bit open-source RISC-V E31 CPU core clocked at 150MHz, with 64KB of data RAM and 512KB of flash storage. The core itself has 16KB of instruction cache. The SoC is fabricated by TSMC using its 180nm process.
The kit, we're told, also has four analog-to-digital converters; I2C, SPI, UART, and GPIO interfaces; a microUSB port for programming, debugging, and power; a so-called eCompass sensor outputting three-axis acceleration and magnetometer information; a temperature sensor; and an ambient light sensor. This is as well as the 6x8 LED matrix, buttons, wireless, and so on. A battery pack is provided to run it without hooking it up via USB.
This is a bit of a coup for silicon startup SiFive. Normally, this sort of tech is powered by CPUs designed by its rival Arm, and yet here's SiFive getting itself on the STEM education radar, and again demonstrating its chips are ready for mass production. SiFive just unveiled its RISC-V PC board, the HiFive Unmatched, and has got its RISC-V cores into the 5G electronics of Samsung smartphones, among other gear.
While the folks at SiFive are probably pretty pleased at seeing their system-on-chip in a product linked to a global brand – the BBC – this has to be start of many, many design wins in the embedded electronics world if it's to catch up with Arm, which is in the process of being bought by American giant Nvidia.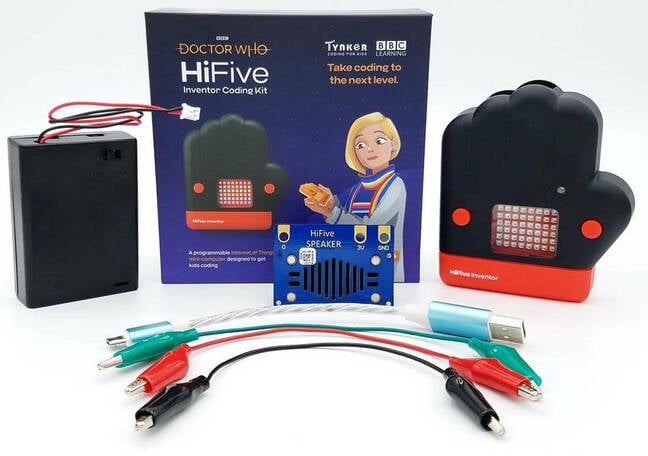 The contents of the Doctor Who HiFive Inventor kit ... A case for the board as well as cables, battery pack, and other bits and pieces
The Doctor Who HiFive Inventor, launching today, is due to go on sale from Monday, November 23, from the BBC's online store, Amazon, Pimoroni, and others, and is expected to be priced below $100. More details are set to be announced; watch HiFiveInventor.com for info. Bulk purchases for schools and non-profits can be made by dropping schools at hifiveinventor.com a line. ®