This article is more than 1 year old
Nvidia says microservices will drive a SmartNIC into every server
Posts sharp Q3 data centre growth and nice gaming numbers but has nothing to say about Arm
Nvidia believes another wave of growth lies ahead of it as microservices create demand for faster data centre networks and therefore a need to offload security and networking chores from hard-pressed CPUs.
The company's numbers are already surging: today's Q3 results announcement revealed record revenue of $4.73 billion, a 57 percent jump year-on-year. Net income of $1.34bn was up 49 percent year-on-year.
Data centre revenue reached a record $1.9 billion, up eight percent from the previous quarter and up 162 percent from a year earlier. That leap reflects the acquisition of Mellanox which contributed 13 percent of overall revenue.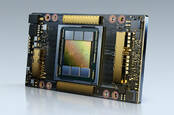 Six months after A100 super-GPU's debut, Nvidia doubles memory, ups bandwidth
READ MORE
"Mellanox had another record quarter with double-digit sequential growth well ahead of our expectations," said CFO Colette Kress. But that result included a sale to a large Chinese OEM that Kress warned would not be repeated in Q4.
But CEO Jensen Huang wasn't the slightest bit worried about that because he thinks data centres need what Nvidia's offering on the network and servers.
"The vast majority of the world's data centre is still built for the traditional hyper-converged architecture, which is all moving over to microservices-based, software-defined disaggregated architectures," he said. That change will create demand for faster east-west traffic.
"Imagine building firewalls into every single server," Huang said. "And imagine every single transaction, every single transmission inside the data centre to be high speed and fully encrypted. A pretty amazing amount of computation is going to have to be installed into future data centres."
Huang thinks a lot of that computation will happen inside data processing units (DPUs), the combination of network card, GPU and SoC that has become de rigeur in hyperscale clouds and recently demanded more mainstream attention when VMware ported its hypervisor to the devices and promised to make them capable of running firewalls.
DPUs will be needed, he said, because between 20 and 40 percent of server capacity can be consumed by networking and security services. "And that's what the DPUs intended – were designed to do," Huang said. "We're going to offload that."
Hyundai announces its own OS for Nvidia-powered smart-ish cars
READ MORE
"And I believe therefore that every single server in the world will have a DPU inside someday, just because we care so much about security and just because we care so much about throughput and TCO. And it's really the most cost-effective way of building a data centre. And so, I expect our DPU business to be quite large."
Is Huang correct? His track record suggests he can pick a market and Q3 offered more evidence of that with gaming-related GPU revenue jumping 37 percent. While automotive revenue fell in the quarter, the former was attributed to a pandemic-related dip and Nvidia has just won a seven-million-units-a-year deal with Hyundai.
Professional visualisation revenue was $236 million, down 27 percent year-on-year but a 16 percent jump from Q2. The business unit outperformed expectations thanks to growing mobile workstation sales that are doing well as the pandemic sends users of such machines home to work and buyers therefore become less likely to replace desktop machines. The decline of desktop workstations drove the year-on-year dip and the mobile machines helped the quarterly jump.
I believe that every single server in the world will have a DPU inside someday
Huang thinks demand for the machines will persist as demand for augmented and virtual reality content grows.
The CEO also mentioned sub-$499 GPUs as an untapped growth market, teased advances to the Triton inference server and suggested plenty of upside in AI.
Earnings calls feature financial analysts who gently and amicably probe senior execs for any signs of weakness that might change the advice they offer to investors. On this call they chose to probe supply chain matters to understand whether Mellanox's expected dip is a result of not being allowed to sell to Huawei. Huang satisfied them on the former and dodged the latter, saying only that one Chinese customer won't be back.
None of the analysts asked about Arm. And Huang had nothing to say about it other than that the deal means Nvidia "will create the computing company for the age of AI, with computing extending from the cloud to trillions of devices." ®