This article is more than 1 year old
Software running on demo licence? At least one patty pusher is Lovin' It
The last time we saw one of these was in February. Things haven't gone well since then
Bork!Bork!Bork! Software licensing is the bane of IT pros. Some spend hours poring over byzantine rules and regulations while others throw in the towel and roll things themselves. Then there are those that simply ignore the pleas for a production licence.
A case in point is McDonald's, which (at least as far as this outlet is concerned) seems to have a somewhat flexible approach to picking a licence for the point-of-sale systems adorning its drive-thrus.
Unless, of course DEMO is an acronym for "Do Eat McDs Often" – wise advice indeed from the patty pusher.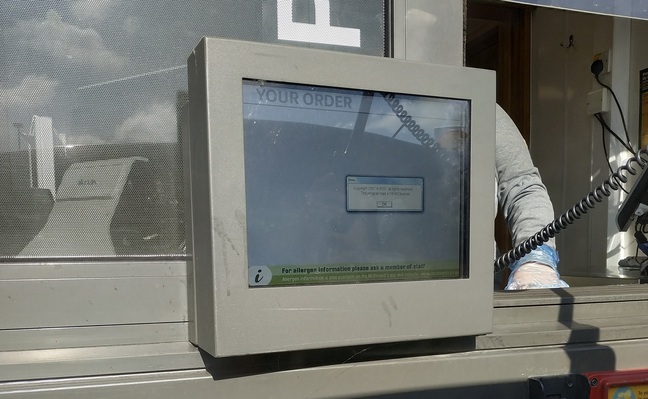 We first saw this particular Bork in the wild back in February, just before the world went a bit mad and some (including this hack) were banished to the garden shed, AKA the home office. Back then, the afflicted terminal could be found in the fair northern England city of Manchester.
Little did we know that forgetting to pop on the production key was actually a harbinger of the coming borkpocalypse. We hesitate to think what yet another DEMO licence for K-POS might portend.
As for today's example, it was spotted by a Register reader taking a well-earned break at Junction 29a of the M1 motorway. The optimistically named "M1 Commerce Park" also features a KFC and Starbucks to fill the bladders and bowels of weary travellers before heading north to Sheffield or south to Derby.
The gloved employee seems unperturbed by the borkage, although judging by the state of the screen at least one or two customers had a McSplurry of their own when presented with the price of their greasy goodies. ®