This article is more than 1 year old
EU says Boeing 737 Max won't fly over the Continent just yet: The US can make its own choices over pilot training
Safety first, politics second
Software updates alone are not enough to make the controversial Boeing 737 Max safe enough for EU-regulated skies, the political bloc's aviation safety regulator has decreed.
In a decision published on Friday afternoon the EU Aviation Safety Agency (EASA) announced it would not be adopting the US Federal Aviation Administration's view that the Max is now safe enough for passenger flights again.
While the US regulator's decision is conditional on airlines "installing new flight control computer software," as well as updating display screen software and aircraft manuals, and some pilot retraining - the EU wants to set its own standards in the latter case.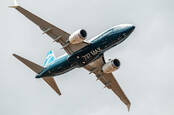 Watchdog signals Boeing 737 Max jets can return to US skies following software upgrade, pilot training
READ MORE
"EASA also found that sufficient reason exists to require certain additional actions, deemed necessary to ensure safe operation of the affected aeroplanes, including pilot training," said the agency in a statement this afternoon.
The agency will start a new consultation period to determine exactly what extra pilot training should be carried out before Maxes can grace EU-controlled skies again.
As chronicled on The Register over the past year, 346 people lost their lives when the 737 Maxes they were flying in crashed. Investigations revealed that a critical software system aboard both airliners called MCAS (Manoeuvring Characteristics Augmentation System), fed data by a single angle-of-attack (AOA) sensor, had functioned in unintended ways that caused both fatal crashes.
MCAS was a software fix for a hardware kludge. Desperate to launch a competing product to Airbus' A320neo, Boeing decided to hang bigger engines off the 737 design and brand that the 737 Max. Those engines, however, changed its flying characteristics too much for the 737 Max to be grandfathered in under existing safety certificates for the 737 family.
Rather than ask airlines to swallow the cost of extra pilot training, potentially scaring off badly-needed customers, Boeing pressured the FAA into accepting false assurances that the Max could be safely grandfathered into the 737 family with the aid of MCAS.
For now, the six 737 Maxes on the UK register – all operated by TUI Airways, formerly known as Thomson – remain grounded. ®