This article is more than 1 year old
End-to-end encryption? In Android's default messaging app? Don't worry, nobody else noticed either
RCS throws the dice
Analysis Google is rolling out end-to-end encryption in the unloved and unwanted Android Rich Communication Services, as part of a renewed hope people might use messaging services controlled by the Chocolate Factory.
The rollout seems to be a last roll of the dice for RCS, which began life as the telco industries' SMS killer – or, more prosaically, their belated response to the growth of over-the-top (OTT) messaging services such as Blackberry Messenger and WhatsApp.
Following Google-fuelled rumours in May of an E2E rollout for RCS, this week saw confirmation that a "beta" covering the entire world (less China and Russia) has been put into force.
"We're continually improving security protections to safeguard your privacy and will be rolling out end-to-end encryption, starting with one-on-one RCS conversations between people using Messages," burbled Google bod Drew Rowny.
There's three main problems for Google here: RCS is not about security; users have plenty of secure(ish) alternatives already; and the wider market couldn't give a toss about RCS anyway.
RCS was conceived to both replace SMS messaging and halt the growth OTT messaging apps. As is obvious, it failed at both aims: Juniper Research reckoned that just 16 per cent of mobile devices worldwide would support RCS this year, despite lots of early time and effort from the mobile industry and latterly Google itself.
While RCS is baked into the default Android Messages app, that is best known as the app which fields SMS messages and not the one you'd use for group chats, secure(ish) messaging or anything more upmarket than that.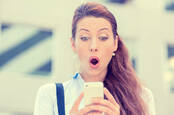 Rich Communication Services: Nobody uses it, nobody wants it, but analysts reckon it's on the verge of a breakthrough
READ MORE
Despite some sneering at mobile networks' "incoherent and broken" rollout of RCS over the past few years, this pitch at the security-focused end of the market feels like a last gasp, a final throw of the dice before the slow, sad shuffle to the cashier's hatch while clutching that last sweaty chip, mumbling that just one more bet would have seen the odds swing in your favour.
WhatsApp deployed E2E security yonks ago, while more privacy-conscious folk who don't trust the Facebook-owned firm's promises have a fully functional alternative in Signal, or Apple's iMessage for fans of the fruity firm.
And despite this latest Google-backed RCS marketing push being based on security, other industry sources have let the cat out of the bag: driving up RCS adoption has little to do with keeping users safe and everything to do with harvesting users to feed into "a whole new category of targeted marketing".
Increased security is a dubious selling point for mass-use messaging apps, at least in nothing-to-hide-nothing-to-fear Britain. Although Whatsapp flashes up a warning when the account on the other side of the chat changes its security key, in reality all this does is flag up that someone's bought a new phone rather than been murdered and secretly replaced by an MI5 hooligan. ®