The Nord N10 is OnePlus's cheapest 5G handset and, boy, does it show
Doesn't mean it's terrible, you just have to manage your expectations
Review With a price tag of £329, OnePlus's latest 5G phone is also its cheapest. From the polished design to the solid day-to-day performance, there's some things to rave about with the Nord N10. And yet we're not going to do that. Not yet.
OnePlus's timing couldn't be much worse. The N10 arrives as 5G phones crash in price. Just this week, Realme (which is owned by the same parent company) released the Realme 7 5G with a price tag of £279. And, starting next year, we'll see a crop of sub-£250 5G mobes using MediaTek's Dimensity 700 chipppery.
Why is this a problem? Because it means anyone releasing entry-level 5G phones at this point need to show why punters should buy now, rather than wait a few months and potentially save a decent chunk of change.
The sales pitch
I've tested my fair share of entry-level phones. Most are targeted towards cash-strapped younger audiences that are inclined to prioritise things like GPU performance over features designed to make day-to-day usage that little bit more convenient. The OnePlus Nord N10 5G is the opposite of that.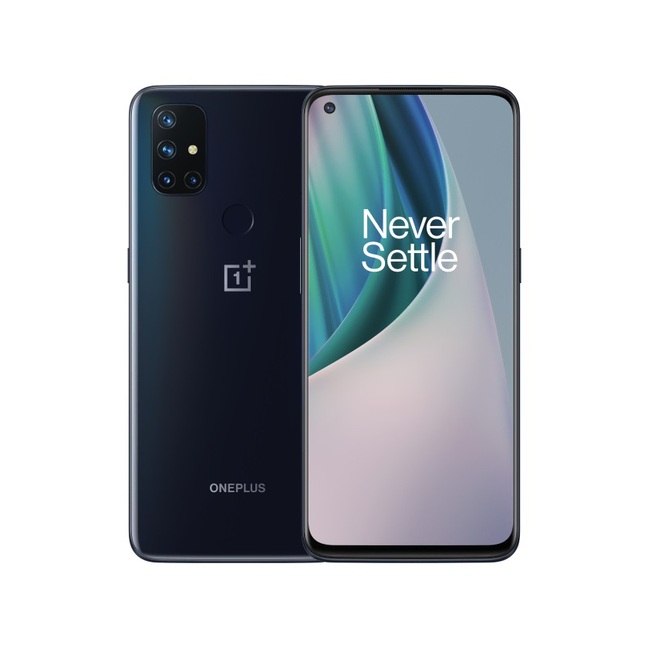 We're not saying it's unbearably slow. The Qualcomm Snapdragon 690 is perfectly competent at day-to-day tasks. Things like browsing, checking emails, and moaning to your ISP on social media all happen fairly briskly.
To its credit, OnePlus didn't cheap out on the memory front, giving the Nord N10 6GB RAM, when other devices in the same price range come with as little as 4GB. This handset is no speed demon, but it's good enough. We also appreciated the 128GB base storage, which can be expanded to 512GB with a MicroSD card.
Where it shines - in its category - is the inclusion of little extras that make this phone user friendly. 30W fast charging is especially welcome, allowing you to fully replenish the 4,300mAh battery in less than an hour. Sadly, there's no wireless charging – although that's hardly surprising considering it didn't feature on the OnePlus 8T. Fortunately, battery life proved excellent, and I was able to easily crank out 36 hours of usage before hitting empty.
OnePlus also wins points for the inclusion of a 90Hz display panel. You'll notice the benefits in the most mundane of scenarios, like when scrolling through your inbox, or watching an Android UI animation. Things just feel slicker.
Sadly, OnePlus immediately loses those points by opting for an LCD panel, which doesn't look nearly as good as an OLED or AMOLED screen, particularly when it comes to contrast or colour fidelity. The N10's display measures 6.49 inches across and has a FHD+ resolution. The aspect ratio is a tall 20:9, making it ideal for busywork like reading emails and browsing the web.
On the rear is a physical fingerprint reader – which is somewhat of a rarity in 2020. As someone who prefers physical readers over in-screen ones, I was initially quite excited. Disappointment soon set in when I saw the execution. It's just too small, which made it difficult to accurately register my fingerprints upon initial setup, while authentication often required a couple of presses to work.
One nice surprise is the inclusion of a 3.5mm headphone jack – again, something seldom seen in 2020. This sits next to the phone's USB-C port, as well as its surprisingly powerful speaker.
And then there's the camera, nestled in a domino-shaped compartment at the top-rear of the phone. The Nord N10 has four lenses: a primary 64MP snapper, an 8MP ultrawide, and 2MP depth and macro sensors. Performance is so-so, with solid day-time shooting, but uninspiring macro and portrait performance.
Staying power
No device is perfect. The lower the cost, the more evident the compromises. The OnePlus Nord N10 5G is no exception. Throughout the course of this review, we've complained about the phone's display, fingerprint reader, and camera, to name just a few components.
These aren't necessarily deal-breakers, however, and there's still a lot to like. In spite of its poor LCD display, the N10 is a relatively handsome phone. It's hardly a powerhouse, but not excruciatingly slow either. If you align your expectations correctly, it won't let you down.
We're also a big fan of OxygenOS – although a touch disappointed OnePlus is only going to offer one operating system upgrade with this device, which ships with Android 10 by default.
Still, it's in an awkward position. It won't take long for other entry-level devices to overtake the N10, both in terms of performance or price.
Complicating matters further, you can spend a little bit more and get a vastly more capable device. The Nokia 8.3, for example, surpasses this phone in virtually every metric, despite only costing £70 more. It also comes with three years' worth of Android updates, which is something you can't really say for this. There's also the OnePlus Nord, which has a more powerful processor and a better AMOLED display, for just £50 more. ®