This article is more than 1 year old
Snap decision: 74-year-old Florida man wrests puppy from jaws of alligator
And both lived to tell the tale
With a breath of some much-needed good news, The Register is obliged to point out that it's nice to see Florida Man* upending the stereotype of "world's worst superhero" by actually doing something heroic.
Word emerged over the weekend via CNN that an elderly man was forced to prise his three-month-old Cavalier King Charles spaniel, Gunner, from the jaws of a young alligator, which snatched the pup while the pair passed a pond in his backyard. What's even better is that the harrowing battle was caught on surveillance camera.
"We were just out walking by the pond and it came out of the water like a missile," Richard Wilbanks told the news org. "I never thought an alligator could be that fast. It was so quick."
Footage shows the 74-year-old, of Estero in Lee County, thrashing in the water before surfacing with his hands gripped around the small gator's throat. In its jaws is a tiny puppy. The battle is over in seconds as Wilbanks successfully frees the pooch from the rows of teeth before taking a second to retrieve his own hand.
A trip to the doctor for a tetanus shot followed. Gunner suffered a single puncture wound and was right as rain after being seen to by a vet despite spending a brief period totally submerged by the reptile.
The drama was filmed thanks to a partnership between the Florida Wildlife Federation and fSTOP Foundation, which has set up cameras throughout the state "to create a positive effect in conservation by creating awareness through the use of photography".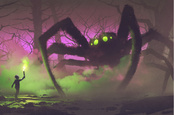 Oz cops investigating screams of 'why don't you die?' find bloke in battle with spider
READ MORE
A good thing, too, since Florida is nearly up there with Australia when it comes to potentially hostile wildlife. Your correspondent recalls the frequency with which enormous alligators can be spotted chilling at roadsides, an altogether too curious turtle that wanted a piece of our BBQ steak creeping out of the nearby lagoon, and trying not to step on snakes while wandering through swamps during holidays many moons ago.
But Australia still wins overall if only for the "mortal wombat" – a normally docile marsupial that allegedly attempted to slaughter four generations of women. Heaps of venomous spiders and monstrous crocodiles notwithstanding.
In Florida, at least, alligators may have met their match. ®
Bootnote
* Before you start feeling smug about how superior people in your town/state/county are to Floridians, you should know the phenomenon of Florida Man may have arisen because it has really good public records laws. The state's Public Records Act (Chapter 119, section 1 of the Florida Statutes) declares that "all state, county, and municipal records are open for personal inspection and copying by any person" – which means journalists and friends get wind of Floridians' stupid antics more often than they might do of those living in other American states with less open laws. Or, say, those in the UK, whose journos regularly get told Freedom of Information requests are – oh dear – just too darned expensive to process. We are all Florida Man, readers.