Hands On Can you believe Huawei's luck? Imagine discovering a new planet, populated entirely by Irish people, which has a dozen orbiting satellite moons all harvesting shamrocks, all the year round. That lucky.
Through extraordinary timing, the Chinese giant finds itself with the big screen phone category to itself, thanks to its new stonking new Mate 9. Samsung has retreated beneath a blanket of fire retardant foam, and almost everyone else forgot to make a large display smartphone to compete. Which leaves us with the question: is good timing, and steady improvement enough to merit your phablet cash?
Before we answer that, let's pause to clarify what we're talking about here: this much fabled "phablet" category. It's a semantic minefield.
When the word first gained currency, about five years ago, it referred to the Samsung Galaxy Note, with its absurdly large (for the time) 5.3-inch diagonal display. But mainstream smartphones have got bigger, so if it has any meaning, it is really "a bit larger than the market norm". It's a very relative term. As we'll see, this is problematic in 2016 because the diagonal display measurement is a no longer a proxy for the phone's size.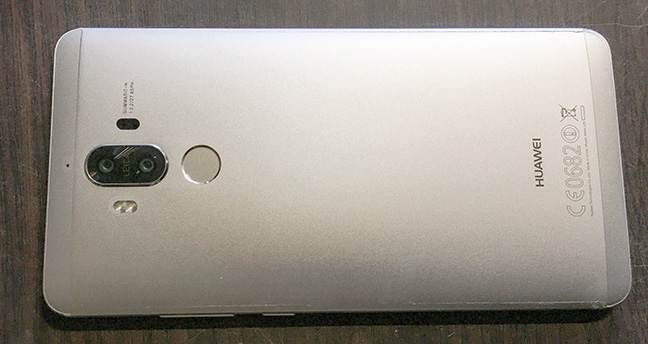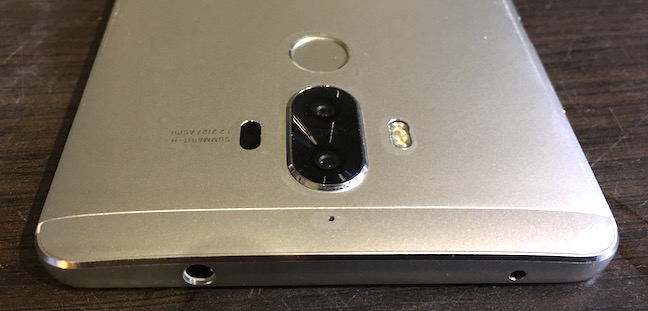 The slim-bezelled Mate series has a supersized 5.9-inch diagonal display, but it's the same width and height as an iPhone 6 Plus or 7 Plus, give or take a millimetre. And to confound things further, it actually is a beast, in terms of weight. It's a heavy 190g.
Now comes a further problem for any reviewer. There are really two distinct markets for "phablets". There's the professional or gadgetphile, who wants all the bells and whistles, and then there's the low wage migrant service economy, for whom a large phone is a substitute for a laptop. A big display and long battery life are valued here – rather more than multicore benchmark performance and pixel density (ppi). The former group is over-represented when it comes to writing phone reviews, the latter - more's the pity - is under-represented. Not many Filipino maids moonlight writing phone reviews. For all these reasons, I'd retire the term "phablet" completely – but here we are.
Heavy Metal
So, now. The new Mate is nowhere near as spec-complete as the ill-fated Samsung Note 7, meaning: there's no special stylus support, no waterproofing, and no wireless charging. And the price has gone up in line with Huawei's 2016 strategy – although we don't know what it will be. The Mate S sets you back £429, but this is expected to be higher.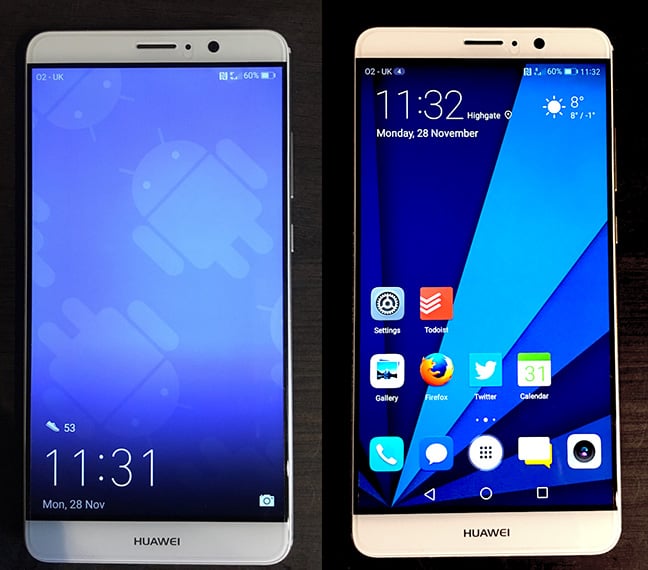 The reasons that display size is misleading is because of a clever design trick. The design trick is making the side display bezel almost completely disappear from around the display.
I noted last year that a visiting alien, seeing the iPhone Plus and thin-bezelled Mate S side-by-side, would conclude the Mate was the more evolved, and the more modern design. Well, that's even more true this year. It's heavier than the iPhone Plus models but uses it well: the Mate 9's 4000mAh battery easily takes you into a second day, and I struggled to find a flaw here.
The Mate 9 has another trick up its sleeve: Huawei's new phone silicon, based on the latest ARM cores, offers scorching performance. Thanks also to intelligent system tweaks, I found for example that Evernote fires up faster than on any other phone. It's one example where Huawei's focused engineering effort is turning out real consumer benefits.
(Another example: while writing this Virgin Media went down, and the Huawei smoothly switched to 4G.)
Design-wise, it's a modest evolution of the gimmick-free Mate formula: large, with nicely tapered sides. The speaker quality is a whole lot better this year, though – it's probably the first thing you'll notice as the device boots. It's really a bottom-firing mono speaker but the earpiece speaker also chimes in with a little bit of treble, giving an ersatz stereo soundstage. Switch from landscape back to portrait, and the sound changes from bogo-stereo to what Huawei calls "euphonius sound", which nobody there can explain. There's decent balance at mid-volume, but the bass disappears as the decibels increase.
Note that the Porsche Design variant of the Mate 9 has "Porsche Designed" speakers.
Makeover
With the Mate 9, Huawei very much wants you to know that it has revamped its Emotion UI (or EMUI) launcher and skin. This heavy, paternalistic, iPhone-derived Sino-centric design served it well as Huawei took its first steps into the Asian consumer market. But Huawei is keenly aware – having been berated so often by reviewers - that the UI needs more polish and fewer eccentricities to succeed at the premium end of the Western market.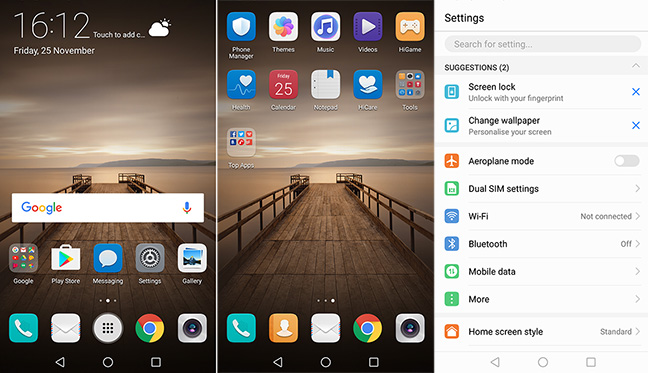 So Huawei has hired [subscription required] former Apple designer Abigail Brody to revamp the UI. EMUI here gets a numerical bump up to 5.x, and is based on Android Nougat 7.0. But despite the bump, it's very early days. The most noticeable change is that EMUI gains an Android-standard app drawer, although the iPhone-style pile up all the apps on the home screen mode is still the default setting. Notifications are presented in a much more banal-looking list than previously, but you can blame Google here – it's the Nougat standard.
Proportions look better, some dialogs have been smartened up, and EMUI doesn't mask third-party desktop icons quite so aggressively. I like how if you hold the app drawer icon down for a second, then the drawer starts, but the UI input focus goes straight to a search box. That means you can't shift the drawer icon from its permanent centre spot on the dock. EMUI also supports three preset scalings (like the iPhone's "Zoomed" setting), a blue light filter, and the ability to start two instances of apps, each with a different user account.
We're at the beginning of a design design overhaul that I suspect will take at least two more iterations.
Hardware or performance related?
At 1080 x 1920, the display will delight everyone except the basement-dwelling gadget bloggers who anoint something a failure if it falls below the maximum ppi. I'm pleased Huawei has shunned a power-guzzling QHD (1440 x 2560) resolution display, however, for its mainstream Mate – for this a very good panel indeed. (But watch this space: Huawei has just announced a China-only Mate 9 with a QHD panel, because your buying decisions just aren't complicated enough).
The imaging unit used by the P9 and P9 Plus is incorporated here, the Leica-branded 20MP/mono 12MP combo that can turn in excellent results. I won't dwell on it since this is the only familiar part of the phone (see our P9 snaps review here), and I will cover it in more depth in the full final review.
The Mate 9's performance was particularly outstanding, with rapid startup times. Huawei claims the system performs additional optimisations based on how frequently you use an app. But the new Kirin 960 silicon helps too. This uses the latest ARM cores – four of the A-73s – with four older A-53 cores.
And not surprisingly, given the latest SoC, the Mate 9 roasts the competition on both synthetic benchmarks like Geekbench, and high frame rates for games. Geekbench 4 returned a single core result (1914) higher than either of the Galaxy S7s or the Note 7, while the multicore result (5810) was even further out in front (the Note 7 recorded 5228, last year's Nexus 6P 2848.
Call quality was predictably excellent - it's a Huawei - holding a signal well, and grabbing one quickly. The battery needs a longer workout. It's one of the strongest in its class, at 4000mAh, and Huawei has a bunch of tricks to prolong the charge. Whether it fulfils Huawei's promise of "two full days" is something I can't yet corroborate, given the hammering it has been taking.
In summary, the Mate 9 carries forward the Art of the Phablet without any gimmicks, and without encroaching on Samsung's pen-centric territory. As for value for money, without a UK street price, we can't say much. But watch this space. ®
SPECIFICATIONS
5.9-inch FHD (1080x1920) display
156.9mm x 78.9mm x 7.9mm
190g
4000mAh battery
Dual SIM or Single SIM + microSD card
Huawei Hisilicon Kirin 960 octocore SoC
Fingerprint sensor
Similar topics