This article is more than 1 year old
Frenchman who wanted to 'smash a guy's face in' fined €135 – despite correctly filling out paperwork stating why he left home during lockdown
'In his own way, he was trying to fulfil the letter of the law' says cop
A Frenchman has been fined after police in Brittany discovered him breaking the country's harsh lockdown laws with a written note saying he'd left home to "smash a guy's face in."
The errant 39-year-old was found in the town of Lannion in the early hours of Saturday, 21 November, according to expat news site The Local.
A police commander, Daniel Kerdraon, told the AFP newswire that the unnamed man was spotted lurking behind a parked car by a passing police patrol. On questioning, he told cops he was "waiting for someone to smash their face in."
France's coronavirus lockdown laws state that anyone who leaves their home must fill out a paper permit – called an attestation - explaining why they're out and about.
The man, who was armed with a flick knife, had duly filled his out "with his real name" and the time he had left home.
"In his own way, he was trying to fulfil the letter of the law," sighed Kerdraon, who added that the man's reason for being outdoors was not valid.
He was duly arrested and fined €135, along with another €150 for "drunken behaviour."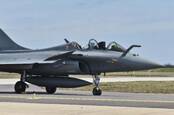 French pensioner ejected from fighter jet after accidentally grabbing bang seat* handle
READ MORE
France has had its fair share of oddities during the strange year that has been 2020. In April a comedy of errors came to light after an elderly and reluctant French pensioner, shanghaied into a fighter jet trip by well-meaning colleagues, accidentally ejected himself after takeoff. By pure luck, an ejection seat system malfunction meant the pilot stayed inside the jet and was able to safely land it, albeit without its passenger. Both were uninjured.
Then, in June, a chap who stolidly stared down his employer's attempt to constructively dismiss him by giving him nothing to do won £44,000 in compensation for the so-called "bore-out." ®