This article is more than 1 year old
Why did Apple hamstring camera repairs on standard iPhone 12 but leave Pro Max module swappable? asks engineering group
Bug? iFixit muses in teardown of Cupertino's top-tier mobe
The iPhone 12 Pro Max represents the top end of Apple's latest smartphone lineup. This is a tier that historically has differentiated itself not just by its price, but also by its camera, which Cupertino insists can produce shots that rival those taken on professional kit.
A recent teardown from iFixit gives some weight to these shutterbug creds, highlighting a dramatically upsized sensor as well as new image stabilisation tech.
The primary wide-angle camera sensor on the iPhone 12 Pro Max is 12MP. This sounds low compared to the 108MP sensors found on the Samsung Galaxy S20 Ultra 5G and the Xiaomi Mi 10T Pro, but more pixels doesn't necessarily translate into better photographs. Physically smaller pixels receive less light, and require technical trickery to improve low-light performance.
Apple has always prioritised fewer, larger pixels, and the primary sensor used this time around is 47 per cent larger than its predecessor. It's massive. With it is a new (for the iPhone) approach at removing the image jitters caused by shaky human hands. Rather than stabilising the lens, Apple opted to surround the sensor with four magnets, which are designed to compensate for external movement.
There are drawbacks to either approach, and "optical image stabilisation (OIS) versus sensor stabilisation" has long been a point of contention in the photography community. We haven't really seen sensor-based stabilisation in the mobile sphere, and one can only assume Apple took this route due to the huge size of the iPhone 12 Pro Max's primary sensor.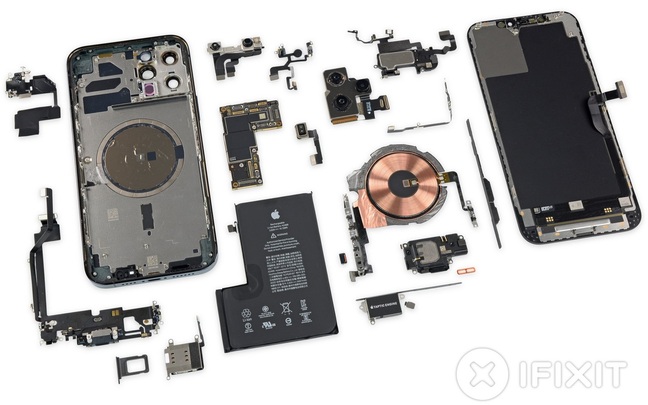 Pic courtesy: iFixit
Things get more curious when you look at the camera module itself. This can be swapped between identical phones without any loss of functionality, unlike the module used on the standard iPhone 12 variant, which requires the use of a proprietary Apple cloud tool to reconfigure.
The question then becomes: Why did Apple opt to completely hamstring third-party repairs on the standard iPhone 12, while leaving other models in the lineup – notably the Mini and Pro Max – completely unencumbered?
It's not entirely clear. While Apple will inevitably sell more units of the iPhone 12, the camera module on the Pro Max almost certainly costs more, due to the presence of a larger primary sensor, as well as the inclusion of a telephoto lens and LIDAR scanner. "Let's hope those bugs were just a fluke," iFixit said.
Overall, the iPhone 12 Pro Max is somewhat consistent with its stablemates in terms of repairability, with iFixit giving the device a score of 6/10.
The same compliments and criticisms apply to this device as its siblings. Routine repairs – like screen and battery replacements – are straightforward, and Apple has avoided gunging up the device with hard-to-remove adhesive. However, its all-glass exterior makes this phone worryingly fragile, and any nasty drop will all but demand a full case replacement. ®