This article is more than 1 year old
Considering the colonisation of Mars? Werner Herzog would like a word
Famed director dispenses a reality check for wannabe Martians
Film-maker Werner Herzog has upended the scorn bucket over billionaire electric car and space firm mogul Elon Musk's plans to create a city on Mars.
In an interview with Inverse, Herzog described Musk's dream of colonisation as "an obscenity", and compared humans to locusts, emptying one planet of resources before moving on to the next.
Herzog's comments came during the publicising of the director's latest project, Fireball: Visitors from Darker Worlds, a documentary on meteors, comets, and the cultural and physical impact they've had on Earth.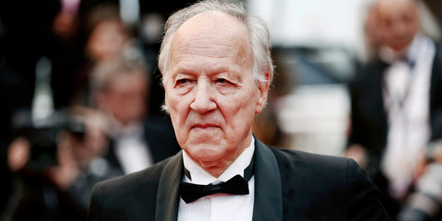 Werner Herzog in Cannes in 2019
As well as directing the feature, Herzog also narrated it.
The Register asked Herzog about the interview and he told us, regarding his "obscenity" remark: "When speaking about technological utopias that will come to an end in the 21[st] century, I mean not only colonization of Mars, or other planets out there, but also the idea of immortality – as if we could abolish death by modifying DNA sequences in our bodies."
He went on to say: "I would like to add something about Elon Musk: he is doing the doable – electric cars, reusable rockets, and soon improved batteries. In pursuing this, he is the right man for our time."
The film-maker said he was not averse to the idea of visiting Mars with a camera but reckoned the longer term plan of a self-sustaining city was a mistake.
Herzog isn't alone. The idea of colonising Mars has been met with much scepticism over the years. Former Voyager team member Garry Hunt told The Register that the concept of terraforming the planet was "absolutely stupid" and went on to detail the numerous problems faced by those seeking to live on or even attempt to make Mars more Earth-like.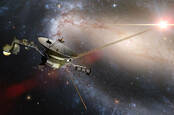 Let's go space truckin': 1970s probe Voyager 1 is now 14 billion miles from home
READ MORE
Highlighting the lack of pressure on Mars, Hunt told The Reg: "There's no way the planet can hold the gases naturally in the atmosphere". He also pointed out that "Mars does not have a magnetic field" – meaning it has little defence against the constant stream of charged particles spewed from the Sun.
Hunt's take was that humanity needed to work together to deal with some of the more down-to-Earth challenges facing our species.
Herzog has interviewed Musk in the past, and the billionaire cropped up in 2016's Lo and Behold, Reveries of the Connected World in which the director cheerfully (at least as cheerfully as Herzog gets) said he would accept a one-way ticket to the Red Planet. Laughing, Musk replied: "I think we'll want to offer round trips."
Herzog is notable, in the opinion of this hack, for improving whatever production in which he turns up, be it the first Tom Cruise Jack Reacher vehicle in 2012 or a surprise voice role in 2014's animated Penguins of Madagascar. He also had a part in Star Wars spin-off The Mandalorian in 2019.
We can but hope that the great man will be able to provide the narration should Musk's Martian dreams ever come to fruition. ®