This article is more than 1 year old
India takes aim at Alibaba with new round of Chinese app bans
43 apps axed, including those helping buyers and sellers of digital tat bazaar
India has banned another 43 apps from operating in its territory.
As was the case with previous bans, India's Ministry of Electronics & IT (MEITY) said the prohibited apps are "engaging in activities which are prejudicial to sovereignty and integrity of India, defence of India, security of state and public order." Just how the apps do that was not explained in the announcement of the new ban.
The new list includes Alibaba's apps for both buyers and sellers, plus an app named Alipay Cashier that facilitates AliPay payments.
Whether India worries that Alibaba is misusing locals' data, represents a threat to local payment schemes, or has been censured for otherwise behaving badly is not known. What is certain is that India and China have recently skirmished on a disputed border and previous app bans were interpreted as a de facto reprisals. India is also running a self-sufficiency drive that it hopes will increase local production to the point at which buyers beyond its shores consider it a viable rival to China as an offshore manufacturing destination.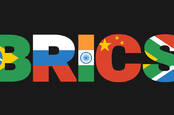 BRICS bloc – home to 40 percent of humanity – wants to drive global e-commerce consumer protection rules
READ MORE
While banning Alibaba's apps for shoppers cuts off a huge potential market for the Chinese company, the ban on apps for suppliers stops Indian companies using the Chinese company as a sales platform to reach the world. Just how that helps India was not explained.
Several dating apps made the new deny-list. Such apps can sometimes harvest data or include risqué content, or both. Either would be enough for India to swing its ban-hammer.
However it is harder to understand why office space company WeWork's Chinese app has run afoul of regulators, or why Hong-Kong-based food delivery app Lalamove has made the list.
The new round of bans means India has now forbidden more than 200 China-linked apps from operating in its territory.
Some have tried to find ways back into the nation, with shooting game PUBG making the most elaborate attempt by cutting ties with China and promising a $100m investment in India's gaming industry. ®