This article is more than 1 year old
UK coronavirus tier postcode-searching tool yanked offline as desperate Britons hunt for latest lockdown details
When we expect heavy traffic spikes we provision enough capacity to handle it... right?
The gov.uk postcode-searching tool for Britons to find out what level of coronavirus lockdown they'll be in until Christmas has crashed on launch and been withdrawn.
Arriving this morning as part of the government's scheme to partially lift lockdown measures across England, the website almost immediately died and threw up a slew of different errors before red-faced Government Digital Service (GDS) bods pulled the plug.
Hosted on gov.uk, GDS's flagship web project, the site's crash and withdrawal will be seen as an embarrassment after most of the nation flocked to the site to see what travel bans have been imposed on them from next week.
The variety of HTTP error messages thrown up by the site suggested that its operators failed to provision enough behind-the-scenes capacity to soak up the predictable surge of inbound traffic.
At the time of publication the site appears to have been replaced with a straightforward "full list of local restriction tiers by area" rather than a postcode search box.
GDS, via the Cabinet Office, has been asked to comment.

At some points the entire setup powering it failed, with El Reg being able to repeatedly view gov.uk's HTTP 502 Bad Gateway status page. As Reg readers know, 502 means the relevant server is not responding because it has run out of memory.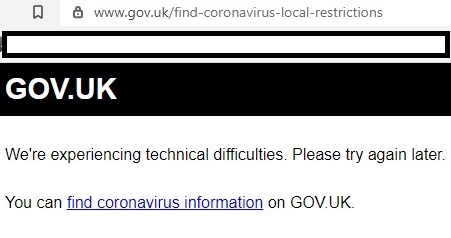 The service itself is as simple as could be: users input a postcode and the site returns a result saying "you are in tier X". It's a database-powered lookup service that isn't overly complicated.
Last year the House of Commons' Science and Technology Committee said GDS's purpose was "increasingly unclear", in part because of the failure of its Verify digital ID service.
One would have thought, given that gov.uk is GDS's most highly visible venture, that provisioning sufficient server capacity to support a basic postcode lookup service might have been a bigger priority. ®