This article is more than 1 year old
HP CEO talks up HP-ink-only print hardware and higher upfront costs for machines that use other cartridges
'These actions will help us to optimize the business by reducing the number of unprofitable customers'
HP might have dropped the Ink Inc from its corporate banner but CEO Enrique Lores is still mining for the black gold: with the firm clawing back cash by slapping away the grubby hands of its pesky "unprofitable customers" from its printing rig.
Over the years, billions of pounds in profit was generated by HP's ink and toner business – the area upon which the company built its fortunes. But then things turned sour in 2019: more customers were lured by cheaper alternatives from supplies "cloners" or re-manufacturers' and HP overegged sales forecasts, resulting in more more than £100m of excess inventory struggling to find a home.
The solution, as outlined 13 months ago at HP's Securities Analyst Meeting, was to raise the upfront price of printer hardware for customers who didn't want to use HP-branded supplies. And for those who did, to create hardware that locked down the use of non-HP ink or toner.
This week, when talking to analysts about Q4 financial results, Lores alluded to the current state of play. "We continue to evolve our print business models with our drive towards services and a rebalance of profitability between hardware and supply."
He added: "We are making progress on rebalancing the business model between hardware and supplies. We are expanding profit upfront with 69 per cent unit growth on SES or Big Inc. We have improved consumer hardware AIU year-over-year through selective price increases, new product innovations and lower discounts."
Just this month HP began to roll out HP+, described as an "end-to-end platform strategy" that ties customers into only using HP ink, which "provides a differentiated value proposition for our loyal customers," said Lores.
HP+ includes web-connected "standard print hardware", which HP says "automatically detects and fixes connectivity issues", the Smart Security monitoring system, native in-OS printing, and a Forest First feature where every page printed is "balanced with investments to help protect and restore forests in equal measure."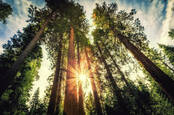 HP CEO: Help us save the world one tree at a time... by printing stuff (with our kit, of course)
READ MORE
The requirements of HP+? An HP account, internet connection, and "use of Original HP Ink or Toner for the lifetime of the printer." It comes with no subscription but HP is dangling a six-month trial of Instant Ink, the service that caused some annoyance recently when HP ended the print-for-free lifetime deal and swapped it with a monthly payment plan.
Lores said during the analyst conference call that Instant Ink was up double digits in Q4 "surpassing our target of eight million enrollees."
Another feature is Private Pick-up, which only releases documents when the user is at the printer – particularly helpful for office users working at home or people who don't want their family members to see what they are printing.
"We plan to extend HP Plus across most of our home and small office portfolio in developed markets," said Lores.
"Together, we expect these actions will help us to optimize the business by reducing the number of unprofitable customers."
For HP's Q4 ended 31 October, the group turned over $15.258bn in sales, flat with the same period a year ago – demonstrating the contrasting fortunes of HP: sales to business were down and sales to consumers were up.
The PC business was flat at $10.432bn. Within this notebooks grew 18 per cent to $7.4bn, desktop was down 28 per cent to $2.253bn, and workstation was down 45 per cent to $355m. Consumer net revenue was up 24 per cent and commercial net revenue down 12 per cent.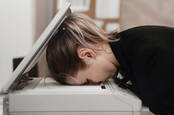 HP: That print-free-for-life deal we promised you? Well, now it's pay-per-month to continue using your printer ink
READ MORE
The printer division was down 3 per cent to $4.826bn, supplies was down 1 per cent to $3.131bn, commercial hardware fell 22 per cent to $923m, and consumer hardware was up 21 per cent to $772m. For the period, HP reported an operating profit of $992m, up some $44m on a year earlier. This was helped by HP chopping $397m in costs in the quarter, including via redundancies and by exiting 30 real estate sites. ®