This article is more than 1 year old
Netflix chooses its own judgment in 'Bandersnatch' case: Settle and make the nasty lawsuit go away
Maybe next time Brooker can choose to write a proper Black Mirror episode
Streaming giant Netflix has agreed to settle a lawsuit over the trademark rights to the "Choose Your Own Adventure" series of books.
At the heart of the case was the interactive episode of the Black Mirror TV series: "Bandersnatch".
Written by Charlie Brooker, the episode squeaked in at the end of 2018 with little fanfare and allowed viewers to make decisions for the main character, tasked with adapting a fantasy book into a video game. There are multiple paths through the episode's narrative and numerous possible endings.
Those of a certain age might recall the "Choose Your Own Adventure" books of the 1980s and 1990s, where the reader must make decisions to drive the plot forward and turn to a numbered page hoping that things are not about to go horribly wrong for the fictional character. The trademark is now owned by Chooseco LLC, who felt that Netflix's take was a little too close to home and lobbed the inevitable sueball (you can read a PDF of the original complaint here) back in January 2019 in the United States District Court for the District of Vermont.
The protagonist in Bandersnatch even went so far as to refer to the book on which his game is based as a "choose-your-own-adventure", but Netflix defended it as a common phrase. Chooseco also complained that the dark content of Netflix's fare was at odds with the tone of its own, relaunched, books.
Those lawyers preparing themselves for a fee-based choose-your-own-adventure (option 1: service the Ferrari, option 2: service the Porsche) were, however, to be disappointed. A third option was to go for a settlement, which is exactly what Netflix did this week. The monetary terms have not been disclosed.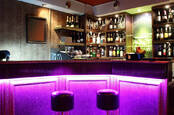 MongoDB loses its mind with marketing budget movie mania: Yep, it's choose-your-own-adventure Hackers with drop-down menus
READ MORE
A judge in February this year refused to dismiss the lawsuit, indicating that there might well be a chance of consumer confusion over the method of interaction. Rather than fight on, it appears Netflix has done whatever was needed to make the sueball go away. Both parties, however, requested that the February ruling that sent the case to trial be vacated.
The Register has contacted both Netflix and Chooseco and will update if either responds with more detail. ®