This article is more than 1 year old
TikTok given another week to sort out how to sell itself
New ways to evade sticking points apparently under discussion
TikTok has another week to sort out its sale to Oracle, Walmart, and their investor pals.
The company had already won extensions to the deadline imposed by the Trump administration to conclude the deal, but the new filing [PDF] reveals that the Committee on Foreign Investment in the United States (CFIUS) has "granted an additional one-week extension of that period, from November 27, 2020 to December 4, 2020."
No reason for the extension was offered, although the United States' Thanksgiving holiday generally casts a low-productivity shadow across the nation. Wire services report that the extension may have been granted to give parties a chance to consider newly framed proposals about how to structure the deal.
Whatever the reason for the extension, TikTok's ability to continue operating in the US remains uncertain after President Trump banned the made-in-China social network on grounds that it is a national security threat.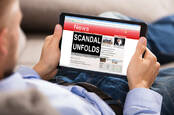 'Robbery, economic plunder, victim of larcenous cronyism and a heist'
READ MORE
Mindful that TikTok helps plenty of Americans to make a living and has promised to bring lots of jobs to the US, the administration offered a way out: find a US buyer to operate TikTok under strict security conditions that prevent data flowing to China while reducing the app's developer, China's Bytedance, to minority ownership.
In September, Oracle and Walmart won a bidding process to drive such a deal and have been in talks to seal it ever since.
The deadline to do the deal has been pushed back several times. President Trump has expressed indifference about its success.
CFIUS, however, keeps granting extensions, an act that suggests it wants to help all parties get the deal done. Maybe even by the new deadline of 4 December. ®