This article is more than 1 year old
So bye-bye, Mr Ajit Pai. You drove our policy into the levee and we still wonder why
FCC boss tells telco industry he's available for lobbying work in January
Analysis FCC head Ajit Pai has announced he will step down on Inauguration Day in January, bringing an end to a tumultuous four-year reign in charge of the US telecoms regulator.
In a statement on Monday, Pai said it had been "the honor of a lifetime" to serve as FCC chair, noting that he was the first Asian-American to head the agency. He also took the opportunity to highlight what he feels have been his main achievements while in charge.
"Together, we've delivered for the American people over the past four years: closing the digital divide; promoting innovation and competition, from 5G on the ground to broadband from space; protecting consumers; and advancing public safety," he opined.
"And this FCC has not shied away from making tough choices. As a result, our nation's communications networks are now faster, stronger, and more widely deployed than ever before."
Critics will see things somewhat differently, starting with the word "together." Pai has made the FCC more nakedly partisan than any previous administration, often completely ignoring public comment and feedback to push through pre-decided outcomes, drawing fierce criticism from his fellow commissioners.
In that sense, "together" has usually meant himself together with his former legal advisor that he promoted to a vacant commissioner seat, Brendan Carr, and fellow Republican commissioner Mike O'Rielly. The Democrats on the FCC - initially just Mignon Clyburn, then Jessica Rosenworcel and later Geoffrey Sparks - constantly voted against his initiatives, often with caustic statements. There was also often a sixth (if unofficial) commissioner during his time in charge: President Donald Trump.
Kiss the ring
Pai scored the chair position by playing heavily to Trump's inner circle, giving a series of partisan speeches, turning up at right-wing events and granting interviews to partisan news outlets like Breitbart. Trump gave him the chair role and Pai repaid the favor by repeatedly carrying out the president's bidding whenever he expressed an opinion on telco policy issues.
Most recently, Pai appalled the telco policy world when he agreed to formally take a look at Section 230 of the Communications Decency Act, playing along with Trump's factless insistence that companies like Twitter and Facebook were censoring conservative voices. That was a step too far for Pai's colleague, O'Rielly, who gave a barely coded speech slamming the request and as a result saw his renomination process abruptly dropped.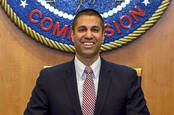 After Trump, Congress, Supreme Court Justice hit out at tech giants' legal immunity, now FCC boss wants to stick his oar in, too
READ MORE
Perhaps the worst example was when Pai pushed through a series of obscure rule changes at that start of his term that were seemingly designed with a single goal in mind: to clear the way for a media mega-merger between Sinclair - a fierce supporter of Donald Trump - and Tribune Media; a deal that would have given the combined company an enormous media footprint across the United States, reaching 72 per cent of the population.
That deal eventually collapsed, much to Trump's public consternation, but only after it became the focus of investigations by Congress and the FCC's own inspector general.
Another black mark on Pai's record was the agency's response to Hurricane Irma on Puerto Rico in 2017, especially when contrasted to similar hurricanes in Texas and Louisiana, as well as previous natural disasters and their impact on communications.
Catch the paper rolls
Pai appeared to be carefully tracking the approach taken by the White House on the issue: one that confused and irritated observers to the extent that many concluded the explanation was racism on the president's part. Pai actively downplayed the impact of the hurricane and limited the FCC's response, earning it a subsequent rebuke from the Government Accountability Office (GAO).
Pai also appalled policymakers with his passionate inconsistency. Despite constantly arguing for a philosophy of "light touch" regulation at the FCC - something he used to argue for the end of net neutrality despite overwhelming public support for the protections - Pai frequently did the complete opposite when it suited his goals.
He aggressively inserted the federal government into state and city government processes over the placement and cost of 5G equipment, causing a huge row and multiple lawsuits. He even intervened to undermine a local San Francisco ordinance that would have prevented building owners from restricting internet access to a single ISP; a bizarre level of micro-management that only served to bolster the most frequent criticism of his chairmanship - that he was in the pockets of Big Cable.
Serving the industry
A former Verizon attorney, Pai was often painfully dismissive of any argument that didn't fit with his prescribed view, and frequently parroted talking points from the telco industry. Numerous examples of collusion between the FCC leadership, Republican party and cable industry organizations were discovered and exposed but the FCC at that point had fully embraced the shamelessness of the Trump Administration and plowed on regardless.
Despite it all, however, Pai was not a full-blown Trumpian apologist. Inside the partisan persona there still exists a policymaker, albeit one with more nakedly political goals than his predecessors. And so, when Pai was caught trying to undermine the minimum speed requirement for broadband - something the cable companies constantly battle against - he eventually backed down.
On this and other questionable policy matters, Pai walked up to the line but never stepped over it, avoiding the fate of several other Trump appointees. At the same time, he managed to keep a taciturn president onside and so stay in the job. It helped that Trump had little interest in tech matters beyond shallow battles over tweets.
In his leaving statement, Pai tried to lay the groundwork for a subsequent career in a post-Trump world, albeit one closely tied to the Republican Party. "I am grateful to President Trump for giving me the opportunity to lead the agency in 2017, to President Obama for appointing me as a Commissioner in 2012, and to Senate Majority Leader McConnell and the Senate for twice confirming me," he said.
His frequent critic, Commissioner Rosenworcel, gave him a muted but respectful response: "While we did not always agree on policy matters, I always valued our shared commitment to public service. Serving the American people is a tremendous honor and I wish him the best in the future."
Looking for work
Pai expected to leave the job in January, especially after he had hitched his wagon so closely to Trump's. As such, announcing his decision to leave two months ahead of time, is little more than the chair of the FCC advertising to the Washington DC lobbying industry that he will be available for hire come the new year.
He will no doubt argue that he did his job, serving the President of the United States in the best way he could, in an effort to elicit knowing nods from those exhausted from dealing with the Trump Administration's instinctual and constantly changing decision-making process.
But that will not explain away the one thing that Pai will likely be most remembered for among the tech policy crowd: his appearance in a video produced by "news site" the Daily Caller immediately before he voted to end net neutrality protections.
In it, Pai mocked critics of his decision by talking about all the things people would still be able to do once his reversal had passed. In it, he dressed up as Santa and a Star Wars character, took a selfie with a dog, ate a bowl of chips, and danced with journalists from the outlet.
It could be viewed as a misguided response to make telco issues more accessible to a broader public, but in reality it was an encapsulation of a new, cynical policymaking effort taking hold in DC: an approach that was knowingly and purposefully shallow, with those taking part all too aware of the complexities and impact of the issue but going to great lengths to pretend otherwise. It is policy as partisan entertainment. Idiocracy.
The hope will be that as Pai exits, so will his particular brand of policy-by-chuckles. ®