For every disastrous rebrand, there is an IT person trying to steer away from the precipice
The Cassandra of 1980s tech: Doomed to warn, but never be heeded
---
Who, Me? This Monday's Who, Me? is a reminder that for every ludicrous bit of company branding, there is always somebody behind the scenes yelling "No!"
Our story, from a reader Regomised as "Will", concerns an unfortunately named service from much-missed computer company Wang.
It was back in the 1980s, when Wang was enjoying success with its computers and word-processing systems, "before they missed where the market was going and tanked themselves in the 1990s," observed Will.
Still, in the '80s, Wang was all the rage. It sought to take on IBM and cast itself in the role of David against the Big Blue Goliath and while it made some inroads into the tech giant's market, the arrival of the general-purpose PC and all the goodies that came with it would eventually seal the company's fate.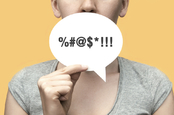 It's always DNS, especially when a sysadmin makes a hash of their semicolons
READ MORE
Will, who spent a chunk of the '80s working for an anonymous American minicomputer manufacturer, had a very good chum within Wang at the time. "He was in their field service team and was the UK-based person who had the responsibility for deploying new field services," Will recalled.
The latest wheeze from the bigwigs in the US corporate office was a new field service product. It had already been rolled out in the US and was regarded as a success. The bosses were naturally keen to replicate this success around the world and planned to roll out the service in Europe, starting with the UK.
Will's chum stared aghast at the name. There would be no internationalisation – the branding was popular in the US, so why should the same success not be replicated in the home of the English language, dear old Blighty?
The service was called "WangCare".
Our protagonist tried to explain that the name might run into trouble "because phonetically it sounded like a UK slang swear/insult."
However, his cries fell on deaf ears: "Being the 1980s, this word seemed not to have penetrated into the US lexicon and the US overlords decided to ignore the sage advice they were given."
The US ploughed on, blind to the warnings, and slapped the UK market with "WangCare".
"It lasted about 1 day before an avalanche of feedback was received from customer and computer press alike," sighed Will.
And his chum? As faces flushed "the US team were then looking to blame the UK team for not advising on the issue."
Of course they were. A shame then that, two decades later, the Windows behemoth Microsoft did not also ponder the phonetic implications of "OneCare". Memories in the corporate IT world can be all too short.
Ever spoken up, only to be slapped down and blamed when the wheels came off? Or did you manage to steer a corporate juggernaut away from an innuendo incident? The Who, Me? is waiting to hear from you. ®
Similar topics
Broader topics