This article is more than 1 year old
Arm at 30: From Cambridge to the world, one plucky British startup changed everything
Though these days it's the darling of the tech shopping cart
British chip designer Arm turned 30 last Friday. This is an auspicious occasion. The microprocessor technology drafted by this Cambridge-headquartered outfit forms the basis of nearly all smartphones and tablets in circulation, dominates the Internet-of-Things and embedded electronics space, and is appearing in an increasing number of computers, in the shape of laptops and server gear.
The origins of Arm as a distinct and separate company began on November 27, 1990. "A new silicon chip design company – Advanced RISC Machines ('ARM') Limited – has been formed in Cambridge, England," its first press release stated [PDF]. "By exploiting the proven RISC technology designs originally developed by Acorn Computers, it will address and attack the growing market for low-cost, low-power, high performance, 32-bit reduced instruction set (RISC) computer chips."
Arm hit the ground running. Firstly, it had the support of three backers: Acorn Computers, which was Britain's answer to Apple, and largely owned by Italian typewriter firm Olivetti by this point; chipmaker VLSI Technology; and Apple itself. Secondly, Arm's RISC-based chips were already in production at this stage, with more than 130,000 shipped by the time of incorporation.
The processor architecture dates back to 1983 when it started as a hush-hush project led by Sophie Wilson and Steve Furber at Acorn. The Brits were casting around for a chip better than the 8-bit 6502 they had been using in their microcomputer products, and in the end, they decided they could design their own chip themselves rather than use something off the shelf. They thus came up with the 32-bit, 25,000-transistor ARM1, and first powered it up in 1985. This silicon was used as co-processors in BBC Micro computers to design a followup, the ARM2, and its support chipset, which appeared in the Acorn Archimedes in 1987. VLSI and Sanyo also licensed the designs for their own components.
Apple, meanwhile, bankrolled Arm to design the processor in its Newton PDA lineup. Although the Newton was an unmitigated failure, Apple would continue its relationship with Arm and its architecture, with Arm-compatible cores powering things like the iPod, iPhone, iPad, Watch, and lately the Macintosh.
(Arm would also later help rescue Apple at the height of its cash crisis in the late 1990s.)
As a founder of Arm, Apple holds a license that allows it to create and use its own homegrown, highly customized Arm-compatible CPU cores in its products, such as the system-on-chips that go into iPhones et al.
Arm, meanwhile, sets the architecture's specifications, and licenses its wide range of CPU and GPU cores, and other building blocks, to clients who plug them into their own chips. A few of Arm's largest customers also hold an architectural license similar to that of Apple's, allowing them to design their own processor cores that are compatible with the Arm specification, rather than pick prepared cores from Arm's menu.
Approach
Right when it started as its own commercial operation, Arm had a fairly crystal-clear vision. One that would serve it well as computers transitioned from something that sits on the desk to something that lives in your pocket, or as an embedded, battery-powered system.
"The strategy of ARM Ltd is to focus on applications where ultra-low power consumption, high performance, and low cost are critical," that press release added. "Such applications and products include personal and portable computers, telephones, and embedded control uses in consumer and portable electronics."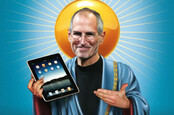 How Steve Jobs saved Apple's bacon with an outstretched ARM
READ MORE
The 1990s brought profitability, new offices, and listings on the London Stock Exchange and Nasdaq after it managed to break away from its now-defunct parent Acorn Computers. Back in the day it was known as the Acorn RISC Machine, then it became the Advanced RISC Machine, then ARM, and now just Arm.
After the turn of the millennium, Arm was aggressively swallowing up smaller outfits, focusing on the areas of mobile and latterly IoT, and getting its CPU cores into all manner of phones, including Nokias. Among the most notable purchases was Falanx Microsystems, bought in 2006, whose work on low-power graphics processing now forms the basis of Arm's Mali GPUs.
Perhaps most importantly, it successfully consolidated its position in the cellphone market, fending off Intel, which released its x86-based Medfield Atom smartphone processors in early 2012. Despite its strong financials and dominance in the PC space, Chipzilla couldn't shake Arm's hold. Four years later, Intel left the arena. (Quite incredible if you remember that, in the late 1990s and early 2000s, Intel had Arm-compatible StrongARM and XScale families at a time when Arm was touting ARM10 cores for smartphones and PDAs.)
Despite all that growth, Arm resisted becoming yet another massive tech giant, with one former engineer describing a commitment to openness and collaboration.
"Warren East was the CEO then, and he was very transparent – we often heard from him directly on important projects or milestones," Alexandru Voica, an ex-Arm CPU designer in the early 2010s, told The Reg.
"The main building in Cambridge had this structure where the centre of the office was a large cafeteria, and around that centre space you had offices where employees worked. Also around that main cafeteria, you had all the desks of the execs. On any given day, you could see Warren or the CTO."
Voica, who now works for Facebook, joined Arm not long after graduating from university in Romania, and recalls a strong culture of mentorship.
"As a graduate engineer, you were put on a rotation in your first year so you could experience three or four different projects and teams. I worked on the Cortex-A7, the Cortex-M0, which is a microcontroller, and a DMC memory controller," he said. "When you entered a new rotation, they assigned someone to mentor you and ensure you were up to speed. It was useful, particularly for people who hadn't worked in a large tech company before.
Having an experienced engineer sitting next to you and figuring out why a certain test failed helped you quickly put the theory of CPU architecture into practice
"I remember a few grads were asked to work on a test bench in assembler which involved some SystemVerilog code underneath. Having an experienced engineer sitting next to you and figuring out why a certain test failed helped you quickly put the theory of CPU architecture into practice. But obviously, you weren't just limited to working with your mentor.
"I remember my suite of tests covered different parts of the Cortex-A7, so I would go up to different engineers and chat about the results. Everyone was genuinely kind and didn't treat me like a junior engineer. I would speak to principal engineers or fellows. There was no sense of a ladder you had to climb — you could just go directly to a fellow and ask for advice."
The last five years have seen Arm go from a publicly listed British institution to a subsidiary of Japanese tech conglomerate SoftBank, which acquired Arm in the months following the Brexit referendum for £24.3bn. The following year, Softbank sold a large chunk of the company – 25 per cent, worth £6.5bn – to Saudi Arabia's Vision Fund.
SoftBank and Arm didn't appear to be a great match: the Japanese giant was, according to sources, surprised by the low royalties Arm was charging per core, and expected it to squeeze more licensing fees from its customers. Meanwhile, other SoftBank projects weren't faring well, most notably WeWork. In the face of financial pressure, SoftBank announced earlier this year it would flog Arm to US graphics processor giant Nvidia in a deal worth $40bn. The sale will require sign-off from regulators in the UK, China, and elsewhere.
There is a perception that this changing of hands, which began in 2016 and continues to this day, has diluted the British identity of Arm. Hermann Hauser, who co-founded Arm, has urged watchdogs to block the acquisition, arguing it would erode Blighty's "technology sovereignty," and turn Nvidia into a quasi-monopoly, holding a "dominant position in all processor segments."
This is the one aspect others in the industry fear too: that Arm will lose its position as the Switzerland of the semiconductor industry, operating from a position of neutrality to being under the wing of Nvidia.
There are plenty of peers that Arm once rubbed shoulders with that are no longer here. Acorn. Amstrad. Sinclair. Apricot. Those once-proud 1980s firms are all gone. Arm also pretty much annihilated MIPS, its RISC rival.
Arm has seen its instruction set architecture go full circle from desktops, in the Acorn Archimedes and RiscPCs, to mobile phones, such as Nokias, Androids, and iPhones, back round to desktops, in the form of laptops and the M1 Macs.
The way Nvidia handles Arm will dictate how Arm ushers in its 60th birthday. ®