This article is more than 1 year old
'We've heard the feedback...' Microsoft 365 axes per-user productivity monitoring after privacy backlash
Redmond rips out usernames, says it will focus on customer orgs, not staffers
If you heard a strange noise coming from Redmond today, it was the sound of some rapid back-pedaling regarding the Productivity Score feature in its Microsoft 365 cloud platform.
Following outcry from subscribers and privacy campaigners, the Windows giant has now vowed to wind back the functionality so that it no longer produces scores for individual users, and instead just summarizes the output of a whole organization. It was feared the dashboard could have been used by bad bosses to measure the productivity of specific employees using daft metrics like the volume of emails or chat messages sent through Microsoft 365.
When we looked at a preview of the feature in May, Microsoft's director of product marketing Melissa Grant and corporate veep Brad Anderson were at pains to insist the software goliath wasn't in the business of closely monitoring their customers' employees. Anderson last year advocated using telemetry to detect iffy connectivity, poor configuration, and garbage hardware, to identify ways to improve staff productivity as opposed to measuring individual workers' actions.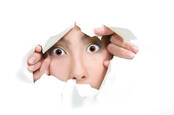 Privacy campaigner flags concerns about Microsoft's creepy Productivity Score
READ MORE
However, when Productivity Score made its debut in Microsoft 365, punters and privacy warriors alike were alarmed at the granularity of its data capture. While Microsoft insisted the technology was all about painting a picture of the way a whole organization uses Microsoft 365 resources and services – such as number of documents shared via OneDrive and emails created overall – Austria-based digital-rights activist Wolfie Christl told us: "The system clearly does monitor employee activities."
Indeed, a glimpse at Microsoft's own promotional video for the dashboard – which is still up at time of writing – showed metrics collected by Microsoft 365 down to the individual level: Amy sent emails over 22 days, Tom used Yammer for three days, etc. It's something that could be switched off by an administrator yet still potentially available nonetheless.
"We've heard the feedback," said Jared Spataro, corporate veep for Microsoft 365 on Tuesday, before announcing the following changes to head off the brewing privacy storm:
We're removing user names from the product. During preview, we added a feature that showed end-user names and associated actions over a 28-day period. In response to feedback over the last week, we're removing that feature entirely. Going forward, the communications, meetings, content collaboration, teamwork, and mobility measures in Productivity Score will only aggregate data at the organization level—providing a clear measure of organization-level adoption of key features. No one in the organization will be able to use Productivity Score to access data about how an individual user is using apps and services in Microsoft 365.
...and...
we're modifying the user interface to make it clearer that Productivity Score is a measure of organizational adoption of technology—and not individual user behavior. Over the last few days, we've realized that there was some confusion about the capabilities of the product. Productivity Score produces a score for the organization and was never designed to score individual users. We'll make that clearer in the user interface and improve our privacy disclosures in the product to ensure that IT admins know exactly what we do and don't track.
Yes, what could have possibly given anyone the idea, not least any confusion, that Productivity Score was "designed to score individual users?"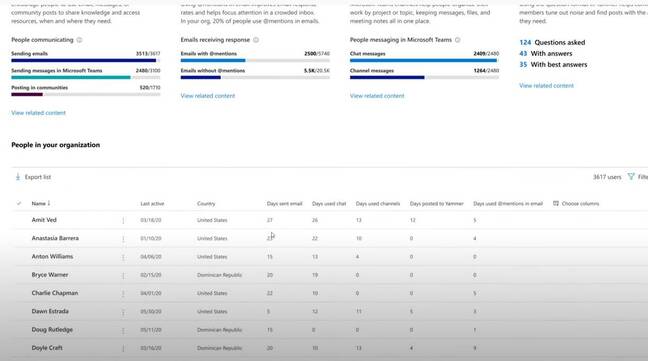 Still from Microsoft's video promoting its Productivity Score dashboard ... Click to enlarge
The above image is from Microsoft's YouTube video touting the features of Productivity Score, including a breakdown of people's use of email and chat.
"We always strive to get the balance right," Spataro continued, "but if and when we miss, we will listen carefully and make appropriate adjustments."
By the way, APIs exist to pull all manner of data out of the Microsoft Graph and, while Productivity Score will now work at the level of an organization rather than down to the individual level, the furore has highlighted just how much data is lurking beneath the surface in Redmond's super-cloud. ®