Bristol's bus stops can run Chrome and Internet Explorer, but no, Windows and public transport do not mix well
Bus stop / Bus goes / What's crashed? / Windows
Bork!Bork!Bork! A welcome return for an old favourite in today's serving of Bork. No matter how oddly shaped the screen, Windows will always find a way to throw up an error.
The latest in our series shows Windows, possibly version 7, running in Classic guise and putting in an appearance on a bus stop in Bristol, southwest England. Spotted by Reg reader Sarah as November drew to a close, it appears that Windows is having a bit of a bad time of things.
It looks like multiple processes are trying to fiddle with the same file, and the OS has reacted with its usual blancmange-like resiliency and flung an error onto the screen, as well as a taskbar that shows Bristol's bus stops can run Chrome as well as Internet Explorer.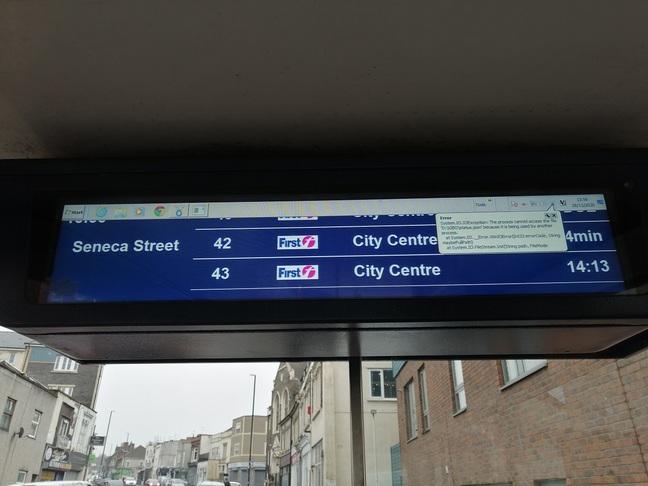 Click to enlarge
To be fair to Windows, the error looks like something that should really have been caught by the application rather than left for the operating system to mop up. The notification itself has been attributed to the icon of Xibo, an open-source digital signage platform that "offers a reliable platform designed to give all users the freedom to focus on the most important aspect of digital signage: your content!"
Or, in this case, flashing up some undergarments in the form of an error obscuring the all-important bus arrival times and destinations.
Our reader professed surprise at both the imminent arrival of a bus, but also "a bit of Windows showing up on something that I'm surprised would need it."
"I've heard Bristol bus stops make XP-esque fault noises before too," she added, "which is enjoyably surreal."
Sadly, Bork remains a visual-only delight for the time being so we can't share the bloops, bleeps or flatulating emitted by Windows as things go wrong. It is, however, comforting to note that the .wav files so omnipresent in the early years of this century might yet live on via the medium of a bus stop. ®