This article is more than 1 year old
75% of databases to be cloud-hosted by 2022, says Gartner while dishing on the weak points of each provider
AWS 'reluctant to embrace a multicloud world' but Azure 'often more expensive than on-premises'
Databases are moving to the cloud but Azure is expensive, Google has suspect support, and AWS is blinkered about multicloud, Gartner has observed in its latest Magic Quadrant.
Gartner's report, co-authored by five analysts, has made "strategic assumptions" that by 2022 "75 per cent of all databases will be deployed or migrated to a cloud platform, with only 5 per cent ever considered for repatriation on on-premises."
The analysts expect that by 2023 cloud database management systems (DBMS) revenue will account for 50 per cent of the total market revenue, and that the cloud trend will reduce the number of vendors. They also anticipate growth in multicloud, which they say will increase complexity for those charged with integrating and managing these deployments.
Sixteen vendors qualified for the analyst house's Magic Quadrant, with half of them in the sought-after top right corner, indicating both completeness of vision and ability to execute, at least according to Gartner's definitions and judgement.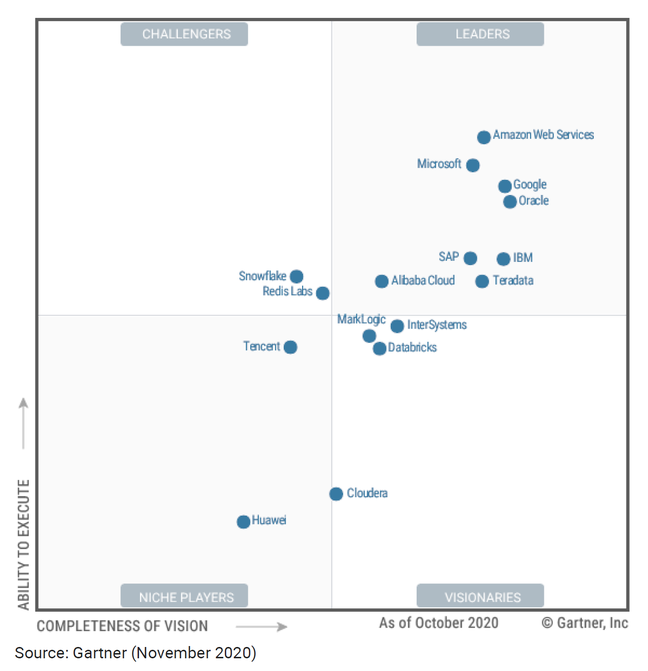 Click to enlarge
Given that the major cloud platforms each have a wide selection of products, and the report covers the lot in just a few hundred words, there is not much here for technical folk to chew on.
There is also a seeming contradiction in the report, in that DBMS vendors like Redis Labs and Databricks are listed alongside cloud platform providers like AWS. This is not comparing like with like since the main options for running Redis in the cloud are AWS, Microsoft Azure and Google Cloud, and for Databricks – Azure, AWS and Alibaba.
AWS, being the market leader, tends to think of its own cloud as the most important...
The report is still worth a look if only for its observations on various vendors, many formed via Gartner's "peer insights" research, where IT pros review enterprise products. From this we learned, for example, that AWS DBMS services including Aurora, Redshift and DynamoDB are liked for their performance and reliability. Gartner observed that AWS "has a better track record for availability and reliability than the other hyperscale providers," though the report was published before AWS broke itself last week. Such outages are uncommon.
The analysts also reckoned AWS is blinkered when it comes to multicloud. "AWS, being the market leader, tends to think of its own cloud as the most important. AWS's support for a world in which most organizations will have data on multiple clouds lags behind that of some other hyperscale providers and most independent service providers," said the report.
Gartner's remarks came amid re:invent in which Amazon Web Services CEO Andy Jassy teased ECS and EKS Anywhere, the AWS container services expected to enable more flexibility in deploying the cloud giant's technology. They are said to work "on any infrastructure," including customers' data centers and with rival clouds Azure and Google Cloud, and are due to arrive next year.
Multicloud – but at what cost?
Google, by contrast, was praised by Gartner for its multicloud efforts. Anthos, the analysts noted, runs on-premises and on AWS as well as Google Cloud Platform (GCP). To that we can add a recent initiative to offer Anthos via independent hosting companies. There is also BigQuery Omni, which runs on Anthos to achieve similar ubiquity.
"Google is the first hyperscale CSP [Cloud Services Provider] to deliver on the multicloud promise," the analysts enthused, yet we ask ourselves, is the ability to run Google products on competitor clouds really the essence of multicloud since it retains vendor lock-in?
The analyst voiced reservations about GCP's service and support, "particularly for new clients", having heard from its research customers about unspecified "issues". The problems were attributed to fast growth in GCP's customer base.
IBM also secured a top-right spot, though readers may wonder if that is fully justified. Again, there is some confusion about whether we are talking about IBM's DBMS products like Db2 and Cloudant, or the IBM cloud platform. IBM's DBMS revenue is flat, said the analyst, and its sales culture remains too geared towards mainframe products.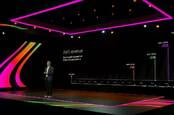 AWS boss calls for racial justice, slams enterprise rivals, unveils a raft of real and promised services
READ MORE
Number two in cloud with Azure, Microsoft was liked for its vision with Synapse Analytics, which combines data warehouse and analytics, and which the analysts said is "refined and comprehensive". The multi-model Cosmos DB also won praise. There are caveats, though.
"Synapse is only just reaching general availability, for one thing. Another is that "contributors to Gartner's Peer Insights platform report that the move to Azure was often more expensive than their on-premises deployments had been."
Gartner also noted that Microsoft's multicloud support with SQL Server, which runs on all the largest public clouds, is tarnished by the fact that the versions vary and that pricing and licensing is structured to favour Azure – something Jassy highlighted at his re:Invent keynote both in 2019 and 2020, in his pitch to persuade customers to shift.
What about database giant Oracle? As with IBM, the analysts talked in part about Oracle the product, and in part about Oracle Cloud, but overall placed Oracle well in the top-right quadrant. Exadata Cloud Service, Gartner said, is liked for its hybrid support and cloud migration capabilities. The analyst observed, though, that running Oracle "incurs a double licence penalty when run on other clouds" and that "Oracle Database is not certified to run on all CSP infrastructure."
Big Red has lost market share because of its slowness to offer a true cloud database as a service, said the analysts. They also noted that Oracle Database on-premises has a reputation for being "expensive and difficult to manage," adding optimistically that the company must "continue to work to change this perception." Perhaps dropping the double licence penalty would be a good start?
The full report is available here or for free via one of several vendors rated in the report. ®