This article is more than 1 year old
Laggardly HPE kisses Joe Biden's ring, whispers Uncle Sam's IT in dire need of modernisation
And HPE is the one to do it, yeah?
Better late than never, right? HPE CEO Antonio Neri has at last congratulated Joe Biden on his victory in the US election, taking the opportunity to urge his administration to focus on digital transformation.
"Congratulations to you and Vice President-elect Harris on your historic election," wrote Neri. "It was truly inspiring to see so many Americans from so many different communities and walks of life across our great nation participate in this election in record numbers."
Neri's letter started off emphasising HPE's credentials, mentioning its work in the fight against COVID-19 and its use in government supercomputers at the Argonne National Laboratory and Oak Ridge National Laboratory.
"As the Biden-Harris transition team sets the agenda and priorities for your administration, I want you to know that HPE is committed to working constructively with your administration to leverage information technology, including high performance computing (HPC), to fight COVID-19, further scientific discovery and rebuild the US economy in a manner that supports the well-being of all Americans, bridge the digital divide to foster greater opportunity for American families, and advance racial justice and inclusion."
The sales pitch continued by urging the incoming Biden administration to make updating legacy IT systems a priority.
"Now more than ever, government systems are in need of comprehensive modernization, and uncertain federal and state budgets necessitate that we look at more creative ways of acquiring technology," Neri said. "We are eager to partner with your administration on innovative approaches to modernize our nation's digital infrastructure – helping our economy recover and evolve well into the future."
Neri's not wrong. At the height of the pandemic, state-run unemployment agencies struggled to process a flood of demands due to a dependence on software developed in the early days of computing. New Jersey was a prime example, with its employment insurance system written over 40 years ago using COBOL, prompting state governor Phil Murphy to seek assistance from members of the public familiar with the antiquated programming language.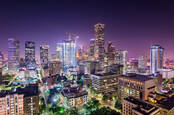 HPE to move HQ from Silicon Valley to Texas, says Lone Star State is 'attractive' for recruitment, retaining staff
READ MORE
Although modernisation is warranted, a cynic would point out that HPE could benefit, either through hardware sales or by providing technical support and consulting. Moving its headquarters closer to Washington may also help matters.
The letter also expressed thinly veiled relief by the prospect of an end to Donald Trump's "America First" foreign policy, with Neri welcoming the Biden administration's "efforts to build relationships with our allies and trading partners" and to "strengthen and modernize the rules-based multilateral trading system."
Neri also touched on social issues, acknowledging the need to bridge the digital divide, as well as heal racial divisions that expanded in the months following the death of George Floyd. "At HPE, we are committed to unconditional inclusion, and believe it is incumbent upon those of us with means and platforms to create change by taking action to advance racial justice and equity," wrote Neri.
"I am eager to partner with your administration on efforts to advance this critical imperative for our country."
These are all laudable goals, but you can't ignore the timing of this letter. Like Intel, HPE waited to acknowledge Biden's win until long after the election was called. This, presumably, was due to the uncertainty surrounding the Trump's legal challenges in certain swing states. These legal efforts have failed. Unless something extraordinary happens, Biden will be inaugurated next month.
Prudent? Yes. Cowardly? Maybe. ®