Microsoft engineer thinking ahead? Troubleshooter doc for Active Directory references 'Florida Retirement System'
If you're mixing that up with File System Replication, maybe it is indeed time
Hardworking vultures trying to think up new backronyms for TITSUP aren't alone judging by Microsoft's Windows Server Active Directory documentation.
Spotted by Reg reader Marc during a particularly trying bit of domain controller troubleshooting (and, to be frank, is there any other sort?) either a Microsoft documentation engineer was thinking of other things, or the Redmond team were testing to see who was paying attention.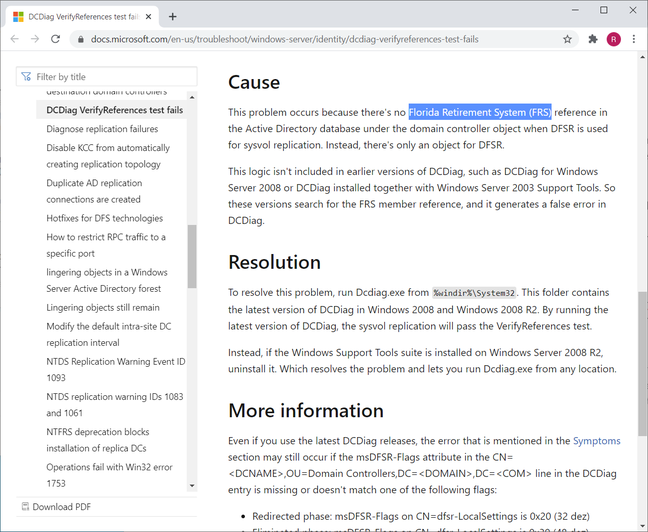 Click to enlarge
Whatever the reason, the cause for a DCDiag VerifyReference test fail was given "because there's no Florida Retirement System (FRS) reference in the Active Directory database."
Now, we know that Windows Server 2008 has been put out to pasture, and there is a certain stereotype that has retired Americans shuffling off to sunnier climes to see out their sunset years, but shoving a reference to the Florida Retirement System into the Active Directory Database seems a bit extreme.
The Florida Retirement System is an actual thing, and customers can opt to participate in the FRS Investment Plan or the FRS Pension Plan. While either option doubtless has its pros and cons, neither sees fit to link back to Microsoft's Active Directory. Odd, since keeping active in retirement is generally seen to be a good thing and coaxing a Domain Controller into life beats a crossword or sudoku hands down when it comes to taxing the old grey matter.
Sadly, we suspect that this is actually all about the altogether more prosaic File System Replication service and either someone at Microsoft was having a bit of fun (and let's face it, there ain't no party like a retirement plan party) or an automated AI initialisation translation bot went off the rails following an innocent typo.
The Register has asked Microsoft if it really intended to reference the Florida Retirement System in its documentation. It would, after all, make a change from the likes of Contoso, Northwind Traders, and good old Adventureworks.
We will update should a response be forthcoming. ®