This article is more than 1 year old
Microsoft celebrates undead MS Paint with festive knitwear
Did someone mention multithreading?
Microsoft has once again unleashed some iffy knitwear on the world with an MS Paint-themed sweater to ring in the festive season.
The company previously flung Windows XP and 95 incarnations at its favoured fans (we note Vulture Central has remained jumper-free) but the MS Paint version is the first to be sold to the general public, replete with worldwide shipping.
The new #WindowsUglySweater has arrived — and this year it's supporting a fantastic cause!

Get yours today (they disappear fast!) and you'll be supporting @GirlsWhoCode when you do. Good deal, isn't knit? 🧶

— Windows (@Windows) December 1, 2020
Available from the Xbox gear store for $69.99 (plus shipping around the world), the MS Paint version is selling fast at the time of writing, with only sizes for the larger fanboi available. The company has also sold off the remainder of the XP and Windows 95 sweaters that it did not find homes for last time around.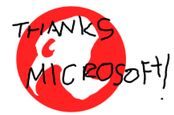 It's an Easter Jesus miracle: MS Paint back from the dead (ish) and in Windows 10 'for now'
READ MORE
Snap one up between 1 and 23 December, and big-hearted Microsoft will donate $20 to the Girls Who Code organisation. The company will top things up to a minimum of $50,000 which, considering the level of the punnage on show, is the least it can do: "Stay warm on the Gogh" – deary, deary me.
The sweater itself is spattered with icons from the, er, iconic package (which harks back to Windows 1.0), although we weren't immediately too familiar with the one on the front. This hack was initially put in mind of a dumpster fire, which would be very on-trend for 2020.
Users can also download themed backgrounds to use in Skype or Teams during socially distanced get-togethers. While Microsoft does not mention the competition, we'd imagine they'd work equally well in Zoom.
Those with long memories will recall a determined attempt by Microsoft to kill off the veteran scribbler back in 2017 before granting the application a reprieve last year. And now MS Paint adorns a seasonal sweater. May we suggest Notepad for 2021?
One can but hope that the festive knitwear does not follow the example of Microsoft's other flagship products if one tugs on a thread just a little too hard. ®