This article is more than 1 year old
QEMU brings back its one-OS-a-day virtual advent calendar
Open source emulator wishes you a merry VM every day between now and Christmas
Open source type 2 hypervisor QEMU has brought back its advent calendar.
The project offers daily festive downloads of a new disk image for you to run under QEMU, with a new image made available every day from December 1st to the 24th.
The calendar previously appeared in 2018, 2016 and 2014, and typically features disk images of obscure OSes or other oddities that you might not find time – or a rationale – to run at other times of the year.
First off the rank for 2020 is an 893-byte game that runs from the boot sector of your (virtual) machine. The tiny tarball weighs in at 1KB after a perhaps-superfluous pass through gzip.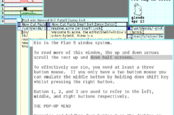 Plan 9 moves out from Lucent licence space
READ MORE
Past editions of the calendar have offered treats such as a Game Boy emulator, a Pebble smartwatch emulator, odd ways to run classic text adventures, and the Free Unix Spectrum Emulator.
You may even be able to toss in your own ideas: the QEMU community shouted out for contributions on November 26th.
On a slightly more serious front, QEMU on Tuesday released rc4 of version 5.2, the last before a full release. The ChangeLog details what appear to be mostly minor changes. ®