Analysis The invitation for Google's latest cloud sales pitch, dubbed "Horizon" because the company has already had its way with "Atmosphere", on Thursday directed attendees to The Mint.
As San Franciscans know, and Google Search advises to those in the area, The Mint is a karaoke bar, not far from the San Francisco Mint, which began churning out legal tender in 1937.
The actual location of the affair turned out to be the Old US Mint, a classical edifice that, through the marketing value of its facade, now helps companies advance their efforts to print money.
The cloud, for Google, represents something of a climb. As of August, Google trailed Amazon Web Services, Microsoft Azure, and IBM in public infrastructure-as-a-service marketshare, by the measure of Synergy Research Group.
John Dinsdale, research director at consultancy Synergy Research, remarked last month that the three cloud leaders "have distanced themselves from the competition in this market and continue to widen the gap."
Google's fixation on the cloud isn't as fanciful as Oracle's at the moment, though both companies show strong growth. To maintain its momentum and perhaps even catch up, Google evangelizes and invests in infrastructure, $9.9 billion of it last year.
"That's just shy of Amazon or Microsoft, if you add them together," said Urs Hölzle, senior VP for technical infrastructure at Google.
Diane Greene, senior VP of Google's enterprise business, came to Google last year to take charge of the ad giant's climb. Earnest and amiable in public speech in a way that eludes many of those tapped to hold forth on the virtues of Big G, Greene cited Deutsche Bank statistics that place Google among the top three public cloud vendors. Sorry, IBM.
In one respect, Greene contends Google has already won. "When you compare our products to our competitors' products, apples to apples, they're just plain better," she said. "And we're closing the gap incredibly fast."
The gap between the better and the popular then would be revenue and reputation.
Greene recounted how, until recently, enterprise customers would listen to Google's pitch attentively, only to ask, "Is Google really serious about the enterprise?"
"It was kind of driving us crazy because we really are serious about the enterprise," Greene insisted.
(We can't think why businesses are skeptical. Google's cloud only suffered a 15-hour outage this week.)
Apps renamed
So serious that it's time to rename everything. Google on Thursday introduced Google Cloud, which encompasses the Google Cloud Platform and throws in G Suite, the apps formerly known as Google for Work and Google Apps before that.
G Suite differs from what came before in Google's insistence that Gmail, Docs, Drive, Calendar, and Hangouts represent a "set of intelligent apps." Google has sprinkled machine learning here and there, to help humans using its software. For example, natural language processing will turn questions posed to Sheets about stored data like "What's the average profit margin of socks?" into a spreadsheet formula.
G Suite has gained a new member, Team Drive, the communist version of Drive. The goal here, said Prabhakar Raghavan, VP of engineering for Google Apps, is "to get away from the notion that content is owned by individuals." ¡Viva la Revolución!
Google Cloud also cast its shadow upon Google's machine learning tools and API, its enterprise maps APIs, and its Android and Chromebook devices.
To mark the grand rebranding, Google elevated Google Cloud Platform (GCP) to its list of hits – its products with over a billion daily users. GCP, said Greene, touches over a billion IP addresses daily. That may not be quite the same thing as a billion daily users, but it counts for something. Google's other bestsellers include Android, Chrome, Gmail, Google Play Store, Maps, Search, and YouTube.
AI and databases
Hölzle took a turn on stage to celebrate the wonders of machine learning and to announce the introduction of BigQuery for Enterprise. BigQuery, previously tailored for analytics, now supports standard SQL queries, making it suitable as a data warehouse. BigQuery for Enterprise also delivers support for Identity and Access Management (IAM), for more considered control of data.
Hölzle hammered Amazon for its inflexible pricing, comparing Amazon RedShift to a room you have to pay to illuminate for an entire month, whether you're in it or not. BigQuery, he suggested, was more like a room with motion-activated lights that work only when the room is occupied. "[Big Query's] high performance does not come at the penalty of paying through your nose," he said. "It's not just easier to use, it's also cheaper to use."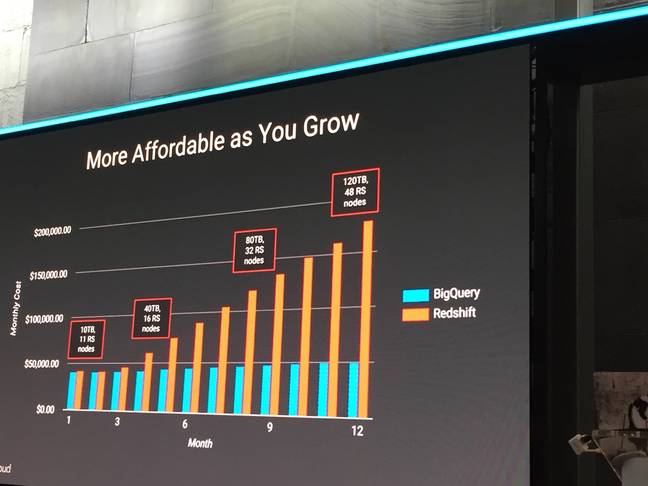 There were other cloud service advances as well. Google Cloud Machine Learning, introduced earlier this year at a Google cloud event not trading on sky terminology, GCP Next, has entered public beta. In addition, Google is expanding its cloud footprint with eight new Google Cloud Regions – Mumbai, Singapore, Sydney, Northern Virginia, São Paulo, London, Finland and Frankfurt – and the company says there will be more next year.
The company is also expanding its partner ecosystem, adding Accenture to the mix. And it's offering certifications for cloud architects and data engineers.
Among the customers featured was Airbus, which is using Google's cloud to identify clouds in aerial images. Thematic synergy doesn't get much better than that. There was also a promise of better support, in the form of more than 1,000 new hires on the cloud customer team and the introduction of Customer Reliability Engineering, a new role that brings engineers into contact with customers, because non-technical support personnel with scripts can't really address the needs of corporate IT clients looking for detailed outage explanations.
Google revealed its endgame in a video shown during the event. "Business runs better when your apps all begin with a 'G,'" the video advised.
Somewhere in Seattle area, they're mulling the sound of "Gamazon," "Goffice" and "Gazure." ®
Similar topics