This article is more than 1 year old
China unleashes fearsome new cyber-weapon: A very provocative meme
This one has Australia, America, even the wine-drinking world angry
China has unleashed a fearsome new cyber-weapon: a meme so dank - it depicts a knife-wielding soldier threatening to kill a child - that it has sparked a diplomatic incident.
The meme was tweeted last week by a Chinese foreign ministry official and aimed at Australia.
Sino-Australian relations have deteriorated in recent years as Beijing objected to Australia's bans on Huawei, passing laws that cracked down on foreign interference in domestic politics, and the blocking of Chinese investments Down Under. Relations hit a new low in April 2020 when Australia led a push for an independent inquiry into the origins of the COVID-19 virus pandemic. Days after that call, China's ambassador to Australia told journalists that Australia's actions could mean Chinese consumers become less inclined to buy Australian wine or beef.
China has since initiated trade disputes with Australia, imposed tariffs on wine imports and declined to allow a substantial fleet of ships carrying Australian coal to unload their cargo.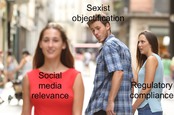 Swedish ISP spanked for sexist 'distracted boyfriend' advert for developer jobs
READ MORE
Those actions are seen as calculated attempts to harm Australia's economy by denying it access to China's markets. China has also handed Australia a list of grievances it wants the nation to address – mostly by reversing policies – to restore the relationship.
Australia, meanwhile, is grappling with a recent report [PDF] on the conduct of its armed forces in Afghanistan that found Australian troops may have murdered up to 39 Afghans and committed other war crimes. Australia reveres its military, and the allegations are considered a stain on the nation's history and reputation.
So when China's meme depicted a doctored image of an Australian soldier with a knife to a child's throat and used the caption, "Don't be afraid, we are coming to bring you peace," it did not go down well.
Australians from Prime Minister Scott Morrison down took exception to the faked imagery, and demanded an apology. Morrison's Liberal party is adept at using web giant Tencent's WeChat messaging service to reach Chinese Australians. The PM posted a message on WeChat defending his nation, and the service took it down on grounds that it violates its regulations.
Cale Brown, the US State Department deputy spokesperson, also took exception to Beijing's tweet.
We stand with our Australian partners in calling out @MFA_China for spreading disinformation by fabricating an image of Australian soldiers in Afghanistan. This is a new low, even for the Chinese Communist Party.

— Cale Brown (@StateDeputySPOX) December 2, 2020
Jake Sullivan, named as President-Elect Joe Biden's national security advisor, signaled the incoming administration will back Australia.
The Australian people have made great sacrifices to protect freedom and democracy around the world. As we have for a century, America will stand shoulder to shoulder with our ally Australia and rally fellow democracies to advance our shared security, prosperity, and values.

— Jake Sullivan (@jakejsullivan) December 2, 2020
Even NATO discussed the incident at this week's Foreign Ministers' meeting. Asked about the meme incident during a press conference, NATO secretary general Jens Stoltenberg said: "The issue of Chinese propaganda and disinformation was raised during the meeting". He also suggested the incident shows that NATO needs to work more closely with Asian allies, including Australia.
China, meanwhile, has refused to apologize or retract the tweet, defended the meme as using art and satire to depict uncomfortable truths and pointed out that's just the sort of free expression that Western democracies treasure. The same China that censors any mention of the Tiananmen Square massacre.
The matter remains at an impasse, with neither nation budging, and Chinese ministers not taking calls from their Australian counterparts.
That China has been able to spark this incident with a single tweet and a meme aimed at a nation's particular anxieties has not gone unnoticed. Nor has the fact that WeChat has helped stymie attempts at rebuttal. Some in Australia have also pointed out that the nation may now be spending more time debating China's reaction to the alleged war crimes than considering appropriate further investigation of the the alleged crimes.
But social media is helping Australia in other ways. The Inter-Parliamentary Alliance on China, a group of 38 elected representatives from 18 nations, plus the European Union, has encouraged the world to drink more Australian wine even if that means less of their local tipples are consumed during the festive season.
#SolidaritywithAustralia
🍷🇦🇺 pic.twitter.com/u3ksj9v4YD

— Inter-Parliamentary Alliance on China (@ipacglobal) December 1, 2020
Seems like good advice to this Australian. ®