This article is more than 1 year old
Salesforce's Dreamforce shindig hits new levels of nauseating online as... Oh god. Is that James Corden?
An event we will never forget, says dreamweaver-in-chief Marc Benioff
Wishing "happy holidays" to any of those sharing his winter-wonderland stage, Marc Benioff presented an outwardly jolly figure as he rattled through the world-domination plan of Salesforce, the SaaS biz he co-founded.
As CEO he is famous for his theatrical presentation at the company's annual Dreamforce jamboree, but this year he has been forced to scale back owing to the pandemic surging in the United States.
But, like most tech CEOs, he is seeing the positives from the viral outbreak that has caused thousands of deaths worldwide, decimated global economies, and plunged governments into scary levels of debt.
"Here we are; we are together. We're together digitally. We're coming together spiritually. We're coming together in new ways. And that's what this Dreamforce is all about: it's a Dreamforce we will never forget," he said.
A glimmer of product news came from Bret Taylor, president and COO, who set forth with scant detail ambitious plans to bring previously Salesforce-hosted Customer 360 to the public cloud.
He said: "We have been working for the past two years on probably the most significant technological shift in this platform since Marc and Parker [Harris] created it over 21 years ago. We've had to completely re-architect Salesforce to work in this way. As a consequence, it's horizontally scalable. That means that if you have a B2B company with 10,000 customers, or you're a B2C customer with 100 million or more consumers, you can now use Salesforce as your single source of truth for all of that data."
Taylor said it was already live in India and Germany, and would roll out to 10 more countries in the coming year. Salesforce has not yet revealed exactly which public cloud providers would be hosting Hyperforce or the pricing structure.
CEO Marc Benioff said the Hyperforce move reflected the fact we're in an "all-digital world" – forgetting that the cause of our virally upended world has been distinctly organic – and took the opportunity to segue into the recent $28bn acquisition of workplace chat platform Slack.
Inviting Slack CEO and co-founder Stuart Butterfield onto the stage, Benioff congratulated him, presumably on relinquishing control of his baby unicorn and presumably pocketing a tidy sum in the process.
Looking like John Candy facing Michael J Fox in some imbalanced celebrity grudge match, the pair extolled the virtues of the merger, Butterfield likening it to momentous moments in computer history such as the launch of the IBM System/370 mainframe, the publishing of VisiCalc for the Apple II and the launch of Microsoft Windows 95.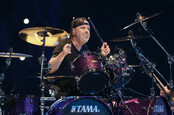 Lars Ulrich makes veiled threats of another Metallica album during web chat with Salesforce CEO Marc Benioff
READ MORE
To get to this dazzling insight, viewers had to endure an introduction by omnipresent presenter James Corden, a man so insufferable the British hope his stateside success will secure his permanent residency. He noted that Salesforce "pioneered cloud computing back in 1999... just like that Prince song said."
The comedy-actor-turned-presenter seemed to forget that the song in question addresses the end of the world, when "we could all die any day": not exactly an appropriate sentiment for a world still gripped by a pandemic.
Oh well, one can't expect depth of thought to arrive with the corporate shill, in which Metallica and Lenny Kravitz also seem happy to have played their part.
Those hoping that recent events would have brought some realism to the presentation style of San Francisco's biggest tech bash could be bitterly disappointed. For all the hype, the sentiment from the stage may be as fake as the snow surrounding Benioff's bespoke designer shoes. ®