This article is more than 1 year old
LibreOffice 7.1 beta boasts impressive range of features let down by a lack of polish and poor mobile efforts
Somebody get this project more investment
The LibreOffice team has published the first beta of version 7.1, with general availability planned for February 2021.
LibreOffice now describes itself as "OpenOffice evolution", a poke at rival OpenOffice. It was forked from the same codebase (the roots of both go back to an '80s application called StarWriter, acquired by Sun) but LibreOffice is progressing faster and has more features. It is cross-platform for Windows, Mac and Linux.
Headline new features begin with an outline folding mode in Writer. This lets you collapse text under any heading so you just see the heading, a handy feature for decluttering a document in progress. The feature is currently experimental, which means it has to be switched on via an "Enable experimental features" option. When we tried it, LibreOffice immediately crashed, but after reopening the new feature worked correctly.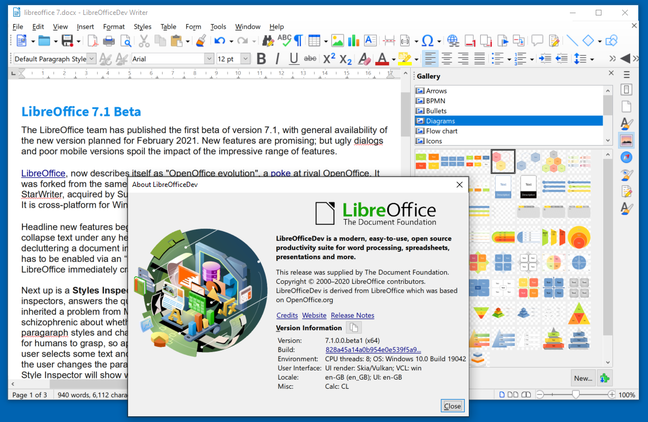 LibreOffice 7.1 beta introduces new features including outline folding in Writer
Next up is a Styles Inspector, which, like similar tools in web browser document inspectors, answers the question: why is this text formatted the way it is? LibreOffice has inherited a problem from Microsoft Word and others, which is that word processors are in two minds about whether they have ad-hoc or structured formatting.
Structured, via paragraph styles and character styles, is a better approach in most scenarios, but harder for humans to grasp, so applications like Writer also support direct formatting where the user selects some text and sets its font and style. This can then lead to puzzlement when the user changes the paragraph or character style, but the direct formatting remains. The Style Inspector will show why.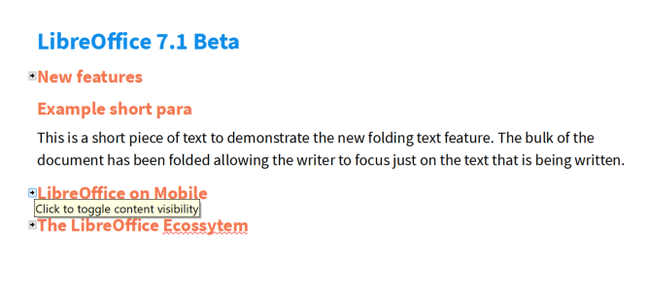 The outline folding feature lets you collapse parts of the document under their headings
Calc, the LibreOffice spreadsheet, has some fixes in cell merging and an option to disable a long-standing annoyance, that when you copy a cell and then press return in another cell, it activates paste.
The Impress presentation application has natty new physics animation capabilities, letting you have objects that fall, shoot right and left, or fall and fade out. The work is based on a project from Google Summer of Code described here.
LibreOffice scripters get the benefit of a new set of libraries called ScriptForge, which can be called from Basic or Python with some handy capabilities such as automation of Calc sheets, file and directory handling, and a large set of functions for handling arrays, strings and more.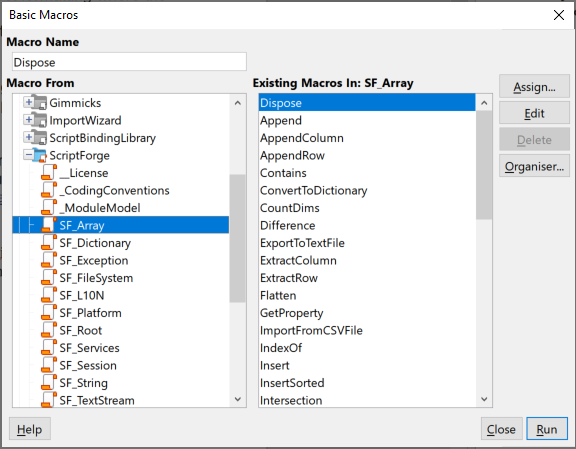 A library of new scripts called ScriptForge will assist developers coding LibreOffice-based solutions
Extending LibreOffice should be easier now, thanks to a new Additions dialog that makes installing extensions more user-friendly, automated from a single dialog rather than a process of manually downloading and installing. This is another Google Summer of Code project.
There is also an early build of LibreOffice for Windows Arm64. Now that Apple has enthused the world about the benefits of Arm PCs, this may prove significant.
LibreOffice on Mobile
Does LibreOffice work on mobile devices? It does to some extent. Collabora, the company that contributes the most to LibreOffice code, has a cloud version called Collabora Online, which can be used from a mobile browser. There are also apps for iOS and Android, but they are not very good. The Collabora/LibreOffice team started on a mobile version of LibreOffice in 2011. Originally there was a web, iOS and Android implementation but in 2018 the developers concluded that having distinct implementations was too hard to maintain, so they turned to an embedded webview approach in order to share more code, initially on iOS, and then with an Android version in 2019.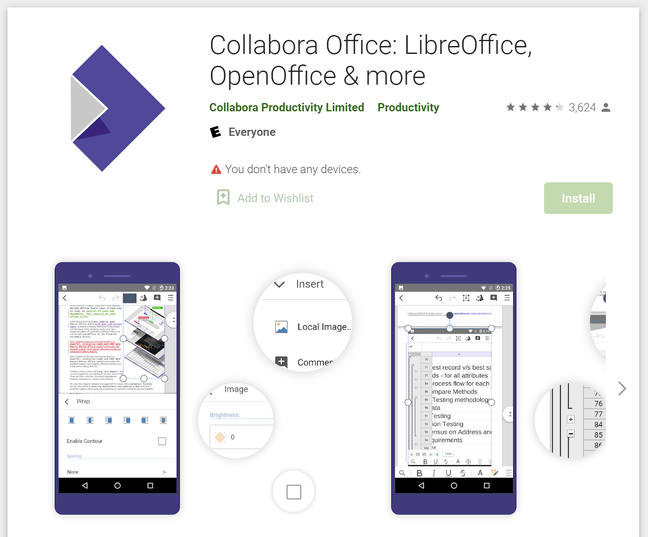 There are versions of LibreOffice for iOS and Android, co-branded Collabora, but they need work
Collabora developer Tor Lillqvist spoke about the iOS version at the recent openSUSE + LibreOffice Conference, explaining some of the challenges of making a mobile office suite. It "shares most of the UI of Collabora Online," he said, though "there is on online aspect to it. All the editing happens locally on the device."
Getting the iOS keyboard working proved problematic because of the WebView aspect. "The keyboard was not showing even if you needed it... by tapping around a bit you usually got it eventually, though." Lillqvist said a fix was found (check out the slides for details), but it illustrates how difficult it is to adapt a complex desktop application to Android and iOS. Microsoft and Google are way ahead here, as you would expect considering their huge development resources.
The Android version is worse than iOS. A recent reviewer commented: "I would be very wary of this app. I have a 32bit lenovo chromebook and the charts have many issues, there are no keyboard short cuts, there is no scrolling capability, you have to change the percent of spreadsheet shown on the monitor then select what you want, you can not scroll to it. There are more issues too numerous to mention."
The refreshingly honest response from Collabora went: "These are very good points, I have filed them internally, we will work on them."
We tried the Android app briefly and found typing difficult, with letters auto-correcting to upper case for no apparent reason, and even problems typing a space after a word.
Good, but not good enough?
LibreOffice is both very good, and not good enough. Its existence as the most feature-rich open-source office suite is important for free software and for dreams such as the EU's Digital Sovereignty.
At the same time, desktop productivity software is somewhat unfashionable, at least without strong online links for document collaboration and access from anywhere, and LibreOffice has some issues around its business model.
"Across the free software world we have a problem in getting people to pay for things," said Collabora's Michael Meeks at the recent conference.
Considering its capability and complexity, LibreOffice is impressive; users can get their work done and it is an effective alternative to Microsoft Office. At the same time, lack of polish and failings in areas like mobile will continue unless the ecosystem issues are solved. ®