This article is more than 1 year old
'Massive game-changer for UK altnet industry': BT-owned UK comms backbone Openreach hikes prices on FTTP-linked leased line circuits
Alternative networks have Ofcom on speed-dial
BT-owned Openreach has slapped a "massive" price increase on connections used by alternative networks for FTTP aggregation, with critics claiming it will "revert the country to a BT monopoly".
The infrastructure arm - which BT legally dislocated in 2017 - recently published notice of a price hike in what it will charge communication providers (CPs) for leased line circuits that are used to aggregate FTTP to multiple homes and business premises.
The Register understands Openreach will not be required to show the price rises were connected to actual cost hikes for the connections as they are non-regulated products and can thus be kept commercially confidential. Some have expressed scepticism over the need for the price hike, since the access is to existing installations with presumably fixed costs.
Besides slapping an extra "annual supplemental charge" (in addition to the standard rental and connection charges) ranging from £560 for its 10Gbit/s Ethernet Access Direct product to a fresh yearly charge of £11,060.00 for Optical Spectrum Access and Optical Spectrum Extended Access, Openreach also kindly "remind[ed] CPs that they can alternatively make use of the nationally available Physical Infrastructure Access product, build their own network, or make alternative arrangements with another infrastructure provider."
CPs were told they need to tell Openreach what they were using the products for, "self-certify[ing] orders for this use case by including 'FTTP aggregation' in the relevant product order notes field."
A Reg source claimed that "alternative" ISPs who are building their own FTTP networks have "no choice" but to use the former state monopoly's network infrastructure for backhaul. This has prompted allegations that Openreach was trying to make life harder for its altnet chums.
When we asked Openreach about this, a spokesperson retorted:
"Openreach isn't obliged to connect 'intermediate nodes' (such as street cabinets) for alternative FTTP providers, using leased lines.
"But if companies do want to use this route rather than building their own Full Fibre networks, we're happy to connect street cabinets at a reasonable price. Of course they can also use our nationwide network of ducts and poles, which Ofcom has specifically introduced for others to build Full Fibre, and is available under regulated prices, terms and conditions."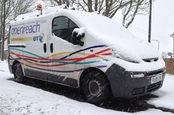 Small UK firms laying fibre put BT's Openreach to shame – report
READ MORE
Our source alleged: "In this charge notification they are putting a massive price increase on circuits used to aggregate other customers, loosely defined as FTTP, i.e. clearly intentionally to screw over all alternate networks who are building their own networks...
"[Ethernet Access Direct] pricing is regulated, although they are presumably exploiting some loophole where pricing for products that aren't used to directly serve end users is exempt from regulation."
BT's broadband arm published its justification here, claiming it was "not obliged under regulation" to provide network access to intermediate nodes in its network via leased lines, and that these included, crucially, the "intermediate aggregation nodes in FTTP networks." Openreach claimed that this was because they are "not part of the relevant market where we have significant market power".
In order to better align with what we are required to do under regulation, we are revising our pricing for leased lines (covering Ethernet and Optical products) with certain use cases...
We are changing the pricing for leased lines that are being used to aggregate FTTP to multiple homes and business premises from aggregation nodes e.g. from a street based cabinet or similar locations with effect from 1 January 2021.
From this date we will be introducing an annual supplemental charge (in addition to the standard rental and connection charges applicable) for leased line services used for this use case.
Our source quipped "where it says 'In order to better align with what we are required to do under regulation' you should probably read 'In order to screw over our competitors when not prohibited from doing so by regulation'."
They went on to opine: "This is clearly a massive game changer for the UK altnet industry and will revert the country to a BT monopoly."
An Ofcom spokesperson told El Reg: "We are aware of the concerns that have been raised and we are looking into them."
The news comes just over a week after the New National Infrastructure Strategy (reported on The Reg here) plans for delivering gigabit capable broadband to rural areas of the UK were diluted in the latest Spending review. INCA, the trade body representing the UK's independent networks, last week complained that the UK government had downgraded "the original commitment to provide £5bn of public funding for hard to reach areas" to just £1.2bn.
IPSA declined to comment and we have contacted INCA and the Competition and Markets Authority for comment. ®