Trumpian politics continue as senators advance controversial Republican FCC commissioner nominee
Telecoms regulator now firmly a part of the burnt partisan landscape
---
Analysis Although the Trump administration is in its final days, the destructive partisan politics it has persistently fanned are still in full effect at the FCC.
On Wednesday, the Senate Commerce Committee passed the presidential nomination of Nathan Simington as a commissioner of America's communications regulator 14-12 along party lines. That was despite serious questions over Simington's involvement in a widely pilloried effort to get the FCC to create new rules governing the shield used by online platforms to avoid legal repercussions from what their users share, give or take a few caveats.
Simington was an author of the brief sent from the Department of Commerce (DoC) to the FCC, requesting that it look at Section 230 of the Communications Decency Act (DCA). Policymakers are appalled that a semi-autonomous regulator is being pushed to do Congress's job and effectively create new law at the urging of the White House.
When President Obama made his views known on a key issue (net neutrality) that was already in front of the FCC, the outcry was long and loud; but President Trump went far further when he announced what changes he wanted to see to Section 230, and then directed the DoC to send a notice to the FCC to take a look at it – a request that current FCC boss Ajit Pai agreed to.
Good governance has yet again been overtaken by fear of presidential attack and tribal politics, however. At his nomination hearing, Simington repeatedly downplayed his role in DoC memo but no one believes it, and there is growing evidence that he was in fact the main driver of the effort – a fact that likely led to his nomination in the first place.
Former FCC Commissioner Michael O'Rielly was put up for re-nomination but after he made it plain he didn't think the FCC had any role in deciding Section 230 issues, his nomination was abruptly pulled and Simington was put forward in instead by the Trump administration.
Deadlock
Despite all this, the committee voted to move Simington's nomination forward out of partisan interest: he is being lined up to deadlock the leadership of the FCC when the new Biden administration takes office. He may also potentially prevent the reversal of last-minute policy decisions that could be pushed through before January. If Simington is dropped at this stage, it may not be possible to get a new FCC commissioner in place before the inauguration.
And just to confirm where all the pressure was coming from, right on cue, President Trump started tweeting.
"Section 230, which is a liability shielding gift from the US to 'Big Tech' (the only companies in America that have it - corporate welfare!), is a serious threat to our National Security & Election Integrity. Our Country can never be safe & secure if we allow it to stand.....," he posted on Tuesday night. He then followed it up with a threat to veto an entirely unrelated must-pass military-funding bill if he didn't get his way.
"....Therefore, if the very dangerous & unfair Section 230 is not completely terminated as part of the National Defense Authorization Act (NDAA), I will be forced to unequivocally VETO the Bill when sent to the very beautiful Resolute desk. Take back America NOW. Thank you!"
It now appears Republicans and Democrats in Congress are ready to override Trump's veto of the defense funding bill.
President Trump seized the debate over Section 230 to put himself in the center of the action, turning a complex issue into a black-and-white matter built around himself: he doesn't like the warning labels social media networks have been placing on his false and misleading tweets and posts, and so has gone on the attack.
It is a particular irony that President-Elect Joe Biden's position on Section 230 is also to scrap it completely even though the majority of lawmakers, and pretty much everyone that actually understands the issue, thinks that is a terrible idea.
More insertions
Incidentally, Section 230 is not the only major policy issue that people are trying to ram into the NDAA: the equally flawed CASE Act that would overhaul copyright law, and may be unconstitutional, is also being lined up. Pushing through unfinished policy business into completely unrelated must-pass bills is almost the definition of poor governance. But in the current political atmosphere, nothing matters more than scoring a point.
The FCC nomination issue stretches further than Section 230, however, and points to another four years of furiously fought for paralysis.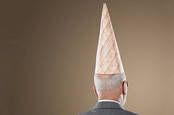 Section 230 authors despair of Trump, Barr, Biden, US Congress' aggressive ignorance of critical tech law
READ MORE
Current FCC chairman Ajit Pai has said he will step down on Inauguration Day (January 20). With Simington in place, that will leave the FCC with four commissioners – two Republicans and two Democrats – ie: deadlock.
It doesn't have to be deadlock, and in the past, it wasn't. But Simington is all but guaranteed to make it so. The Republicans in the Senate are then all but certain to delay the nomination of a new Democratic FCC commissioner for as long as possible in order to maintain that deadlock.
If they can keep it in place long enough, it would likely prevent the FCC from unraveling any decisions made between now and the new administration taking power; opening the door to cynical attempts to control the telco agenda far into the new Biden Administration.
And if Republicans succeed in maintaining the deadlock into 2022, they may also prevent the re-re-re-reversal of net neutrality protections before the next presidential elections, at which point they will hope to have a Republican back in the White House.
In other words, the desire to prevent the other side from achieving anything has already overtaken every other consideration. The FCC was once a body that prided itself on staying largely outside of day-to-day politics. But it has now become a firm part of the political battleground. It will mean the death of well-considered and productive policies – and that will cause far greater problems. ®