This article is more than 1 year old
Wireless screen in estate agent window just begging for someone to fill it with mischief
At last, a chance for a random phone-toting passer-by to show their quality
Bork!Bork!Bork! An opportunity presents itself in today's column of bork to inject some honesty into a local estate agency thanks to a screen that is begging for a bit of casting.
Hard though it may be to believe, there is a lot of bork in the world. Screens of blue or burger-splattered signage are all too familiar. Often there is little one can do but stare glumly at Windows having a whoopsie and remember that somewhere, somebody in IT is having a very bad day.
Seldom is there much one can do to improve matters. And, in this day and age, we'd have to advise readers to restrain themselves from pawing at screens that are pleading for the human touch.
But here, spotted by Register reader Kate, is an estate agent in South Wales positively crying out for a bit of interactivity via a screen and the codes needed to connect to it. We've obviously obscured the salient bits of information but, armed with the data, one could imagine all sort of shenanigans would be possible (from a discreet distance).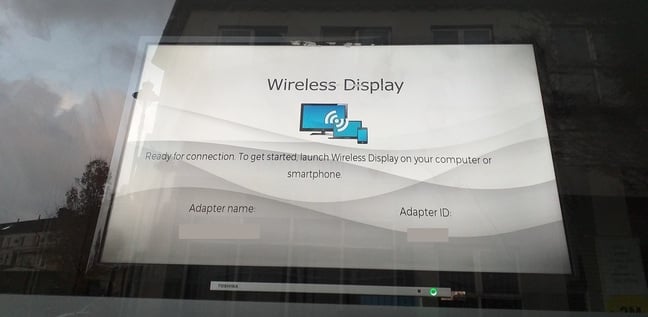 Click to enlarge
For those unfamiliar with the process, one simply wirelessly connects one's device to the screen and hey presto! Admittedly, in this hack's experience, the process has also involved not a small amount of swearing, a hard reset or two, and eventually a plaintive "has anyone got a cable I can borrow?"
But should connection be achieved, one could improve the display with one of various property pr0n television shows, stream an episode of Nightmare Tenants, Slum Landlords or perhaps opt for A Life of Grime (the editions voiced by John Peel, of course) if filth is your thing.
Alternatively, there is the opportunity to fling up a page from one of the many property websites, showing the houses being sold by the agent, except with amendments from an enterprising user to reflect the reality of the properties on offer: "An active part of town" = "Front door splattered with unmentionable fluids every Friday night."
We're sure we aren't alone in being shown a "deceptively spacious" flat, only to require lubricating with grease to escape a coffin-sized lounge.
So, an unusual bork. Something has clearly gone awry. However, for the first time in this series, somebody armed with the necessary tools and codes could do something about it and perhaps make the world a better place for all concerned. ®