Uncle Sam sues Facebook for allegedly discriminating against US workers in favor of foreigners on H-1B visas
Ad biz supposedly barely advertised jobs to staff if a visa worker applied
The US Department of Justice on Thursday filed a lawsuit against Facebook for allegedly unlawfully discriminating against US workers.
In a statement announcing the legal action, US Assistant Attorney General Eric Dreiband of the Civil Rights Division, charged Facebook with illegally setting aside positions for temporary visa holders, including those on H-1B visas, without considering US job seekers.
"Our message to workers is clear: if companies deny employment opportunities by illegally preferring temporary visa holders, the Department of Justice will hold them accountable," said Dreiband. "Our message to all employers — including those in the technology sector — is clear: you cannot illegally prefer to recruit, consider, or hire temporary visa holders over US workers."
The DoJ complaint [PDF], which covers company behavior during the period between January 1, 2018, and September 18, 2019, appears to be part of a broad legal salvo from the federal and state officials aimed at Facebook and Google. Related litigation began in October, 2020, with the DoJ's antitrust challenge of Google. According to the Wall Street Journal, as many as four cases against the two companies have been prepared.
In June, the Trump administration froze the issuance of new H-1B and H-4 visas, among others, citing the harm the coronavirus pandemic has inflicted on the US labor market.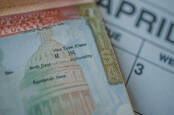 Trump H-1B visa crackdown hit with legal double whammy: Tech giants, Chamber of Commerce challenge rules
READ MORE
Earlier this week, a federal judge struck down Trump's visa rules, stating, "the Court is not persuaded that [Department of Labor] demonstrated the impact of the COVID-19 pandemic on domestic unemployment in sectors where most H-1B workers are employed is so dire that immediate changes to the prevailing wage rates were required, especially given the scope of those changes."
The US Senate meanwhile just advanced a bill to end per-country caps on visas for skilled workers.
The DoJ says its Facebook lawsuit follows a two-year investigation into social ad giant's hiring practices. The feds claim Facebook refused to consider US workers for over 2,600 positions at the company, and allocated those jobs, with an average annual salary of $156,000, to temporary visa holders – individuals sponsored by the ad biz for permanent work authorization, or green cards, as part of the Department of Labor's permanent labor certification process (PERM).
The PERM process requires employers to certify that there are no qualified US workers for positions given to temporary visa holders. The government's complaint claims that Facebook, which makes its money from web advertising, does not advertise these positions to US staff on its internal website.
"For these positions reserved for temporary visa holders, Facebook does not advertise the positions on its website, does not accept applications online, and requires candidates to mail in their applications," the complaint says. "Not surprisingly, Facebook often gets zero applications for these advertised positions. And even when US workers do apply, Facebook will not consider them for the advertised positions."
For non-PERM positions from January 1, 2018, to April 28, 2019, Facebook received an average 104 job applications for each, the legal filing claims.
But the company gets few, if any, applications for positions offered to temporary visa holders. For PERM positions around the same time, Facebook filed 1,128 recruitment reports that indicate that the company received zero US worker applicants in 81.5 per cent of the cases, one US worker applicant in 18.3 per cent of the cases, and 2-4 US worker applicants in 0.3 per cent of cases.
As an example, the complaint recounts how Facebook filed a PERM application with the Department of Labor to fill an Art Director position. The company certified that "it had conducted good-faith recruitment but found no qualified and available US workers for the position."
The position required a bachelor's degree and two years of experience.
The DoJ argues that Facebook's alleged practices not only discriminate against US workers but also harm temporary visa holders by creating an employment relationship that disempowers workers. Hiring practices of this sort, the government claims, increase the number of temporary visa holders applying for positions – thereby skewing the supply/demand equation – and make it less likely that temporary visa holders will change jobs.
"Such temporary visa holders often have limited job mobility and thus are likely to remain with their company until they can adjust status, which for some can be decades," the DoJ said.
The feds are seeking civil penalties, compensation for those US workers who lost out on Facebook jobs because of a temporary visa holder, and additional relief to deter such violations in the future.
Facebook did not respond to a request for comment. ®