This article is more than 1 year old
Marine archaeologists catch a break on the bottom of the Baltic Sea: A 75-year-old Enigma Machine
Attempting to save aquatic life trapped in old fishing nets, divers uncover a hidden treasure
Divers clearing out a sprawl of abandoned fishing nets stuck in the Baltic Sea discovered more than they bargained for when they spotted an Enigma Machine, a device that encrypted secret messages used by the Germans in World War II.
The leftover relic is a prized possession for history buffs and cryptography geeks. Pristine machines that are still functional can fetch several hundred thousand dollars. The one spotted by the divers, however, has rusted away after being submerged under water for several decades. Despite its off-color and battered appearance, the boxy hunk of metal with a few of its raised circular keys still visible is instantly recognizable.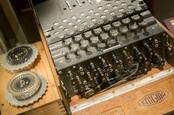 Incredible artifact – or vital component after civilization ends? Rare Nazi Enigma M4 box sells for £350,000
READ MORE
A pair of marine archaeologists from Submaris, a diving company located in Kiel, Germany, working with conservation charity the World Wide Fund for Nature (WWF), knew they had spotted something unusual, thanks to a sonar scan.
"The WWF has been working for many years to rid the Baltic Sea of ​​dangerous ghost nets," Gabriele Dederer, a consultant at WWF Germany, said in a statement translated to English. "We regularly find larger objects on which the nets get tangled underwater. Such so-called "hook points" are often tree trunks or stones. However, the Enigma is by far the most exciting find we have ever had.
Das ist keine Schreibmaschine! Auf der Suche nach #Geisternetze|n haben die Taucher von #Submaris eine #ENIGMA gefunden. Das Gerät diente im Zweiten Weltkrieg zur Verschlüsselung von Funksprüchen. Nun kommt sie ins Museum: https://t.co/zQlGTwAmwV cc @drhuberfloh pic.twitter.com/y8cA6fWyxX

— WWF Deutschland (@WWF_Deutschland) December 3, 2020
The team reckons the machine was thrown overboard in 1945 by the Nazis, after the German navy scuttled its own submarines to prevent the Allies from nabbing the tech toward the end of the war. The Enigma code was cracked by British boffin Alan Turing in 1942 at Bletchley Park, an instrumental figure credited for helping the Allies win the war and for saving millions of lives.
"Should further archaeological finds come up, we would like to point out that there is a legal obligation to report, as this can be underwater cultural heritage," Dederer added. The device will be taken to the Museum of Archeology in Schleswig to be restored and preserved. ®