This article is more than 1 year old
Windows on Wheels is back, though the truck has come to a standstill, much like the OS
Not sure what it's supposed be saying but it probably isn't 0x00000050
Bork!Bork!Bork! Bork is on wheels yet again as we visit Ireland and a very unhappy bit of mobile signage.
Followers of Microsoft's flagship operating system and its habit of falling over without warning might remember February 2020's excursion into the world of Windows on Wheels and the inevitable black cab BSOD.
Not to be outdone, the screens of Dublin have stepped things up a bit by throwing up a bork over the side of a truck parked outside the Blanchardstown DFS.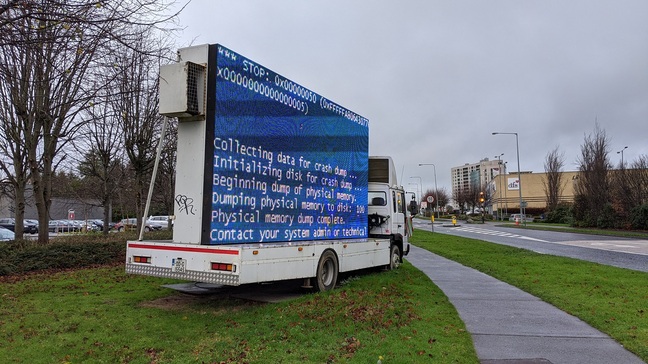 Unlike London's example, the Irish incarnation (submitted by Register reader Mark) looks very much at a standstill. Just like the operating system running behind the scenes. The STOP error itself is of the 0x00000050 variety, and could be caused by anything from registry corruption through to a page fault, and the usual driver or hardware bogeyman.
Either way, something has upset the internals of Windows and the operating system has responded with its usual jelly-in-a-wind-tunnel stability. Only all over the side of a truck.
Truck-based billboards are quite the thing, although this example has been parked up to flash its message at passers-by rather than prowl the tarmac. Sadly, we're not sure what it is supposed to be saying (unless a nearby retailer is planning to flog some BSOD-themed tat).
The same truck was snapped in May 2019 by one of Google's Streetview cameras, but back then the display was resolutely blank.
Far be it from us to point out that quite a bit has happened in the intervening months. But rounding out 2020 a bit damper, rustier, and bluescreened up the wazoo seems somehow very much on trend. ®