Thoughts of future projects and upgrade paths have given way to more pressing business-wide concerns about Brexit and the ongoing COVID-19 pandemic, according to the UK Oracle User Group.
Speaking to The Register during the group's annual conference, member advocate Neil Chandler said there was a sense of limbo in IT departments as their businesses face the dual challenges.
"The headline things that are talked about aren't are we leaving our Oracle or adopting Oracle," he said. "It's all about EU exit and the pandemic. There's so much being put on hold because of the pandemic.
"Projects tend to be largely about 'Will we be able to continue to trade appropriately after Brexit?' given that we're still in a state of limbo, and that's a very difficult question for the business to answer."
The UK's trading relationship with the EU after Brexit, which comes into effect on 1 January 2021, is yet to be determined by negotiations, while border disruption may well be on the cards given the scale of the transition and the UK's preparedness or lack thereof.
But project priorities are likely to come into focus in the second half of next year if the expected vaccine is deployed widely enough and is effective and EU trading arrangements bed in, Chandler said.
"Projects will reinvigorate next year and we'll see more economic activity," he added.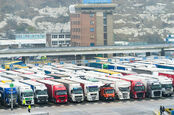 UK tech supply chain in dark over Brexit preparations months ahead of final heave-ho
READ MORE
The choices facing many Oracle customers include the transition to the cloud, with Oracle competing against the dominant hyper-scalers of AWS, GCP, and Azure in the public cloud market.
Chandler said users already heavily invested in Oracle were inclined to take a pragmatic step and stick with the vendor to support cloud services for their Big Red applications and databases.
"If you're very Oracle oriented it makes sense to use their offering: that cloud is extremely good," he said. "It's really good value for money, whereas their on-prem licences can be a bit painful. Their cloud licences are very cheap compared to the competition."
Although Oracle may be using its market presence in databases and applications to persuade users to move onto its cloud, Big Red was actually more open than Microsoft and AWS in allowing its databases to run on other company's cloud infrastructure, Chandler claimed.
But many users were finding the leap to the latest technology in the cloud difficult to justify in the current climate. Some were opting for legacy Oracle 10 and 11 databases rather than the most recent supported Oracle 12 iterations as an interim step.
It is the next transition that could be a big decision. Because cloud-native versions of applications require standard processes, allowing configuration but not customisation, it is a move where customers will weigh up their options.
"If you've got a highly customised ERP system, the migration to the latest versions into the cloud is prohibitively expensive," Chandler said. "At that point, you can decide whether you want to stick with the same vendor: Oracle, SAP or whoever. You're going to have to re-engineer processes within your company to match the product. When you're moving into the cloud you need to really think about if you're going to stick with the same product or does another product serve you better."
The view echoes that of Oliver Betz, SVP head of product management for SAP S/4HANA, who said that businesses needed to adopt standardised processes in the transition of applications to the cloud and give up modifications and customisations that have built up over time in the on-premises world.
Martin Biggs, vice president and general manager with Oracle and SAP support specialist Spinnaker Support, said it was true that Oracle was open to running its database and application software on other cloud platforms, but it did not amount to "carte-blanche support across all platforms. In fact, Google Cloud Platform and or Alibaba are not currently directly supported." He told us: "These 'left-out' vendors are circumventing the restrictions by offering alternatives like Marketplace and containerisation – as in Dockers/Kubernetes solutions. Oracle has had to be pragmatic on the IaaS landscape and so should support a multi-cloud approach for database so that their Oracle Cloud Infrastructure is not side-lined."
While Oracle has been at pains to talk up its cloud performance, customers switching to the cloud to rethink their application strategy may give it cause for concern. ®
Similar topics