This article is more than 1 year old
Next day delivery a bit of a pain? We have just the thing... nestled deep in the terms and conditions
For those teeny, tiny, migraine-inducing nuts and bolts
Bork!Bork!Bork! A bork of a different nature today, as we find evidence of the curse cropping up not in the usual places, but instead lurking within digital-based terms and conditions.
Register reader Alan noted the borkage while studying the small print around delivery, warranty and returns for laptop parts website laptopbitz.co.uk.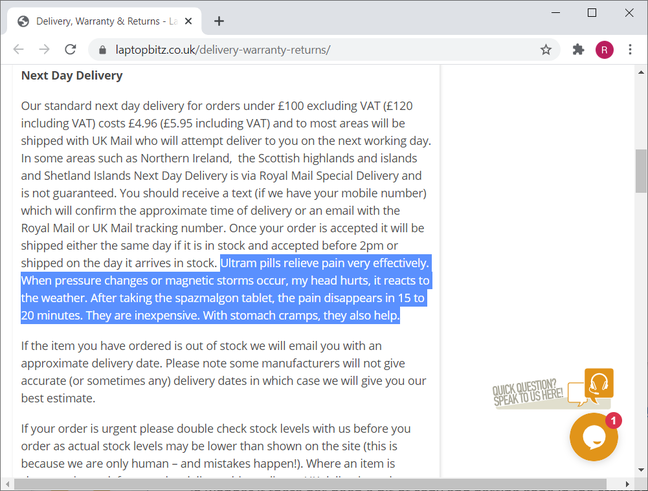 Click to enlarge
Lurking above a paragraph in which the retailer apologises for stock levels occasionally being lower than shown on the site ("this is because we are only human – and mistakes happen!") a woopsie of a different sort appears to have been made.
At the end of a chunk of text comes a sentence not entirely related to the business of shipping keyboards and batteries:
"Ultram pills relieve pain very effectively. When pressure changes or magnetic storms occur, my head hurts, it reacts to the weather. After taking the spazmalgon tablet, the pain disappears in 15 to 20 minutes. They are inexpensive. With stomach cramps, they also help."
While navigating Dell specification sheets or having an Apple apologist insist their hardware is actually very cheap "in the long term" can certainly be migraine-inducing, we're not sure about ordering Ultram from a laptop spares shop. A swift look-up shows the generic name of Ultram is Tramadol, a name familiar to many in the UK who have found themselves deposited in their local Accident and Emergency department (ER, for our US readers) with, say, a poorly knee.
We're even less sure about Spazmalgon, which apparently smoothes muscle spasms.
Far be it from us to wonder if there has been a bit of copy and pasting happening during the creation of this site (and goodness, it would make a change from Lorem ipsum) if so. However, with many facing the headache of securing shipments as the festive season approaches, perhaps a painkiller or two might be welcome before facing the slings, arrows and terse "missed you" card of a failed delivery. ®