In Brief Sadly not an oblique reference to the Val Kilmer 1984 cinematic vehicle, Azure has launched the altogether more serious Azure Government Top Secret: a new cloud to serve customers dealing with Top Secret classified data.
Still going through accreditation by the US government, the Top Secret regions are designed to provide the same capabilities as Azure's commercial and government versions except in a more classified space. This top-secret offering appears to be a follow-on to Azure's mere secret-level hosting.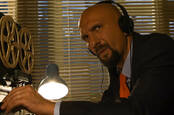 Yep, the usual suspects are sitting down to feast: Dominant vendors get a fat slice of CIA cloud pie and so do IBM and Oracle
READ MORE
As well as new services, such as Azure Kubernetes Service (AKS), Microsoft also rolled out updates to its "tactical edge portfolio" for US Government customers. These included ruggedised versions of the Azure Stack Hub, Stack Edge Pro R and the Stack Edge Mini R, as well as the general availability of the Azure Modular Datacenter (MDC).
A pair of addons were also announced for the MDC via a high-availability power module able to keep the datacentre-in-a-container running where power supplies are iffy "in a form factor that is as transportable as the MDC" and a satellite comms-powered network high-availability module.
We'd advise caution with the voltage.
Tasks in Teams mobile rolls out
While multi-organisation support still eludes its desktop client, Microsoft kept Teams on the treadmill with the rollout of Tasks in its mobile app.
It looks like yet another way of doing the same thing, and Microsoft has quite a variety of To Do-type tools in the field. The Tasks mobile app is currently rolling out via the Teams mobile app interface for iOS or Android, and allows users to manage Planner and To Do tasks with many of the familiar desktop features.
However, rather than the multiple views afforded by the desktop version, only a List view of tasks can be seen on the mobile device screen: "This makes it easier to quickly skim all your tasks at once and click into those assignments for more details."
While Microsoft insisted that the Tasks mobile app wasn't about to replace the Planner mobile app, it does seem that there is more than a little duplication of functionality, although the Windows giant was adamant that "each serves its own purpose."
The update should be with all Teams users in non-government clouds by mid-December.
PowerToys fixes multi-monitor support, conferencing mute still muted
An update for Microsoft's retro-inspired PowerToys suite was released last week, bringing with it a raft of fixes and one glaring omission.
Most welcome was hugely improved multi-monitor support for the FancyZones window manager as well as a fix for the feature's irritating habit of forgetting zones on a restart. There were also interface updates for the colour pick and image resizer as well as a raft of general fixes.
However, still missing from the 0.27 release is the videoconference utility, which remains in the experimental 0.28 build for now. With calendars weighed down by video meetings, the ability to mute audio and video with a single keystroke is appealing.
For anyone running the experimental version of PowerToys for Video conference mute, we just pushed out v0.28 update. This includes everything inside 0.27 and a new custom overlay image option!https://t.co/0nUN27BvKv

— Clint Rutkas (@ClintRutkas) December 4, 2020
The latest work in progress also includes an image overlay. As for a release, the feature might turn up in the 0.29 update. Sadly, however, it is unlikely to appear in non-experimental form this side of Christmas.
There is no escape from Teams calls
Noting that Teams users made over 650 million calls in October, Microsoft has been tweaking the calls functionality "to create a more powerful and streamlined calling experience."
A variety of changes are on the way, including an enhanced Calls app to gather the sometimes scattered core calling elements: the dial-pad, call history, voicemail, contacts and so on into a single location. The storage location for recordings can default to OneDrive or SharePoint, and shunting calls between mobile and desktop is due in 2021, so there is no excuse for terminating a meeting early just because you have to leave your desk.
Microsoft has even targeted the audiobook haven of the car with CarPlay support for Teams Calling.
Teams will also target spam calls and digitally attest outgoing calls to prevent a user being tarred by the spam brush themselves.
Coming in 2021 will be the ability to limit the data used by Teams and adjust based on the network in use (mobile or Wi-Fi, for example).
Microsoft and partners will also be more than happy to sell you any number of Teams-compatible devices to customers seeking something more dedicated than a PC or smartphone.
Microsoft celebrates Windows 95 with a sweater that will ship late
Recognising the demand of fans keen to warm their hearts with the Windows 95 logo, Microsoft is making a fresh batch of its festive knitwear.
‼🧶‼ We heard you! Due to incredible support and demand we are taking #WindowsUglySweaters pre-orders!

They *won't* arrive in time for 2020 celebrations, but they *will* ship in January.

Support @GirlsWhoCode (and look fab doing it) pre-order below.

— Windows (@Windows) December 4, 2020
The only problem for those with $69.99 to drop on the "Windows 95 Ugly Sweater" is that while the full range of sizes are now available, it won't arrive before 25 December. In fact, it will only be available to ship by 29 January, handily missing the season when amusing knitted sweaters are all the rage.
Still, for those who missed the opportunity last time around there is once again the chance to show your loyalty to Nadella and co, as well as remembering the seemingly never-ending delays of 25 years ago, with an ugly sweater that will arrive long after you actually need it.
As before, $20 from each purchase between 1 Dec and 23 Dec will go to the Girls Who Code organisation. ®
Similar topics