This article is more than 1 year old
SAP's strength is the basics: Not RPA or AI, but 'consistent' data models that make sense for actual business processes
However, this same nitty-gritty ERP stuff is not cloud-ready, and that's the big vendor's weakness
Comment Among the fads of the last couple of years have been the bolting on of AI, automation and "user experience" onto enterprise application work-horses. The pressure to follow the trend has been so strong that SAP, Microsoft and Oracle have all jumped on the bandwagon to ensure their products look suitably on-trend.
It's a bit startling, then, when SAP's CEO Christian Klein as much as admits it is a bit of a fad, at least in the context of the big picture.
Talking to investors via the Wells Fargo Securities TMT summit last week, he said: "The success we have in ERP, that didn't come, 50 years ago, because of artificial intelligence – maybe also not because of the user experience. But what SAP had was this real-time steering of a company based on consistent data models and integration of business processes."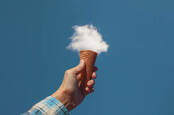 You can forget your fancy ERP customisations because that's not how it works in the cloud, SAP's Oliver Betz tells users
READ MORE
To read between the lines, he was saying that all the flim-flam around AI, workflow, and RPA is meaningless unless you have an in-depth knowledge of how data models relate to business processes in, for example, complex manufacturing businesses.
Only SAP, Oracle and maybe Infor can do that.
For better or worse, the European automotive and aerospace industries have been running their business processes on SAP for decades, with projects including one for the integration of supply chain data between tiers of the European aerospace industries. That system connected into SAP and all the suppliers were running SAP.
This is why vendors specialising in workflow, automation and user experience can only bite off so much of the enterprise market. While there may be value in enhancing an ageing enterprise application estate with these technologies, when it comes to actually running the business, there are only the vendors we know and love/hate who we depend on to run those vital processes and trust with, say, the financial data model.
Yes, it's trusted, but...
SAP's strength is also its weakness, however. Users are reluctant to upgrade to the latest cloud version of SAP software because, in part, so many of the business processes need to change to make that leap.
As Oliver Betz, SVP head of product management for SAP S/4HANA, told us last month, cloud software requires standardisation: customers have to agree on standardised processes. "You cannot have these modifications that you had in the on-premises world, that's not how the cloud works."
For many, it's too daunting a project to swallow simply to do what you do already, only a bit faster. The UK Oracle User Group has spotted a similar trend among Big Red's aficionados.
One wonders then if SAP will run out of road. Capitalism is about growth, and like him or not, that's what former CEO Bill McDermott gave SAP during his nine-year tenure.
To appease investors, the man currently in the hot seat has been talking up the capacity for the cloud transition to improve margins and grab a bigger slice of customers' wallets, at least since SAP's last gear grinding change of financial forecast. It's a grand plan for Klein, but not one with much margin for error. ®