This article is more than 1 year old
Seagate says it's designed two of its own RISC-V CPU cores – and they'll do more than just control storage drives
Processors are 'critical to future products', set to perform tasks for host systems
Seagate says it has, after several years of effort, designed two custom RISC-V processor cores for what seems a range of functions including computational storage.
The disk drive maker told us one of the homegrown CPUs is focused on high performance, and the other is optimized for area, ie: it's less powerful though smaller and thus uses takes up less silicon on a die. Both cores are said to include RISC-V's security features, and are drive-agnostic, which means that they can be used with SSDs as well as hard disk drives.
Given that Seagate, which typically uses the Arm architecture for its chips, said it shipped about a billion CPU cores last year in its storage products, this development may signal a coming surge in RISC-V processor shipments. Western Digital and others are, for what it's worth, using RISC-V cores for disk and solid-state drive controllers.
Core announcements
Seagate – which is a member of RISC-V International, the steering body of the RISC-V world – appears to have a collection of uses in mind for its processor cores.
For instance, it said the high-performance core has been fabricated as an actual chip, and demonstrated as a controller in a hard disk drive. We're told the customized RISC-V CPU outperforms cores currently used for real-time HDD control, and it "paves the way for finer positioning [of drive heads] by implementation of advanced servo (motion control) algorithms" – presumably because Seagate can tune its core to suit this particular job.
The area-optimized core, meanwhile, has been designed though not yet fabricated, and is aimed at "auxiliary, supporting, or background workloads," and performing "security-sensitive edge computational operations." To us that sounds like, for instance, a security co-processor that provides root-of-trust for a system. The Google-led OpenTitan project said it is collaborating with Seagate to produce an open-source silicon-level root-of-trust RISC-V chip.
In addition, Seagate talked up the computational abilities of its cores, and said the CPUs "will also accelerate real-time analysis in the data center and at the edge. Such analysis is crucial to the work of scientific communities with mass data needs." In other words, these cores aren't just aimed at steadying drive motors or performing flash wear-leveling; they'll be expected to handle extra processing tasks.
RISC-V "creates an opportunity to implement application-specific computational capabilities that enable massive parallel computational storage solutions," said Seagate CTO John Morris ahead of his keynote today at this year's virtual RISC-V Summit, during which the new CPU cores is due to be announced. "We believe that these architectures support many important use cases that include scientific simulation (for example, weather prediction) as well as the learning part of machine learning."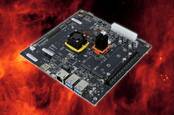 SiFive inches closer to offering a true RISC-V PC: Latest five-core dev board includes PCIe, SSD interfaces
READ MORE
Brad Settlemyer, senior research scientist at America's Los Alamos National Laboratory, said in a statement that "using computational storage to move processing near data has begun to significantly alter the way we analyse data and perform scientific discovery.
"By having compute integrated closely with storage we are able to create persistent data transformations that speed up data analysis by 1000-fold. This greatly relieves our primary compute tier from these tasks. We will be continuing our drive toward efficiency gains for our mission needs by partnering with vendors and actively participating in important industry initiatives like computational storage."
RISC-V is an open-source, royalty-free instruction set architecture that's backed by Google, Alibaba, Huawei, IBM, Western Digital, SiFive, Microchip, and more. Its steering body sets the specifications, and it's up to companies to implement them in silicon. There are free open-source and paid-for closed-source building blocks available from various outfits if you don't fancy designing it all from scratch. The emphasis is on customization. This is in contrast to rival Arm, which sells licenses for its chip designs and is much stricter on the customization of cores.
Cecil Macgregor, who runs Seagate's ASIC development, said the manufacturer has "now expanded the capability to add customized RISC-V cores to our portfolio, which is critical to future products." By the time you read this, there should be more info here.
Computational storage competition
With this move into computational storage, Seagate will compete toe-to-toe with Eideticom, NGD, Nyriad, Samsung, and ScaleFlux. These vendors produce SSD storage drives with added processors, typically Arm-based, to perform repetitive, low-level storage operations, such as compression, deduplication, encryption, and video transcoding. The intention is to both offload work from a host server's CPU cores so that they can do more application processing, and accelerate the storage operations. ®