This article is more than 1 year old
Cisco challenges the tyranny of Outlook with short, self-terminating Webex meetings
Upgraded collab environment offers worthy post-COVID tweaks, also relies on oldies like Presence
Cisco has upgraded its Webex collaboration suite in ways it hopes will both boost productivity in the post-COVID age and meet the 2020 moment by "giving everybody a voice" and making online meetings "10x better" than the real world.
That empowerment schtick is partly Cisco making sure it's seen to be on the side of racial justice and inclusiveness, and partly the usual ShinyHappy™ from marketing. It's also an admission that a matchbox-sized video window is a tough stage on which to communicate and doubly challenging for those who aren't talkative or assertive by nature.
Cisco has also noticed that web-based meetings are seldom spontaneous and reckons that's not a good thing.
Enter the villain of the piece: Microsoft Outlook. Jeetu Patel, GM and senior veep of Cisco's security and applications business, reckons that meetings have been shoved into Outlook's default 30-minute blocks and that workers have unquestioningly followed Microsoft's arbitrary preference.
Cisco's response is a "Quick Sync meeting template" that allows WebEx users to schedule meetings of any length. Those meetings feature a countdown timer and self-terminate when the clock hits 00:00.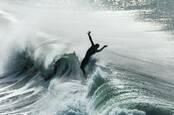 Cisco mostly silent on when and what it knew about malicious WebEx wipeout
READ MORE
There's also a new meeting format that allows quick chats to be arranged by just adding people to a list and firing up the meeting. This, apparently, enhances productivity. Just as interrupting a bunch of people and dragging them into a meeting room used to enhance productivity back when we went to meeting rooms.
Another of Cisco's new "meeting templates" gives each participant a set time in which they occupy centre stage. This one's to give introverts the abovementioned "voice".
Other upgrades include the ability to make a presenter's video window small so that the content they're displaying will be larger and more engaging. That feature is one example of a "stage" that now lets WebEx users make different video chat participants more or less prominent to suit the content being delivered.
Noise cancellation has been enhanced so that those working from home in noisy environments or using a blender during a meeting will be heard. The blender is not a rhetorical flourish: Cisco's demo literally showed off a user making a smoothie while collaborating productively.
At this point, readers might be wondering how Cisco is making online meetings 10 times better than they are in the real world.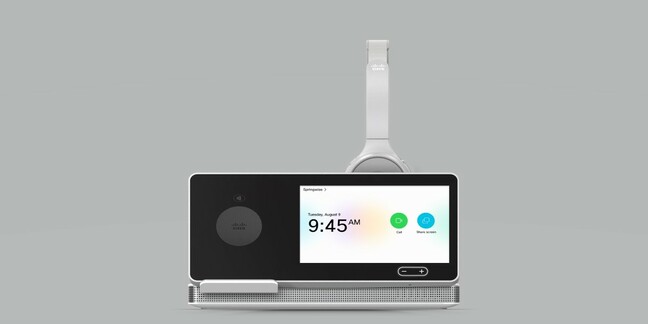 The new Webex Desk Hub. Click to enlarge
The company didn't have great answers for this. One exec pointed out that Webex's Presence feature lets a manager understand who among their team is available, all over the world. Try doing that in the real world, the audience was told. Or try doing that with MSN Messenger in the year 2000, or Slack, or Teams, or any other tool that uses Presence because it is just not a new thing.
A more impressive argument was made for tech aimed at field workers, who can use Webex to contact an office-bound subject matter expert. The two can then use video to display whatever problem is being addressed in the field, and the subject matter expert can even annotate the field worker's video feed to demonstrate how to fix it.
Quick Sync meetings feature a countdown timer and self-terminate when the clock hits 00:00
Also impressive was real-time translation into captions below speakers' video windows. Webex has also gained the power to identify common gestures so they can be rendered as emojis and offer feedback to speakers.
Feedback will also flow from new analytics features Cisco said will produce a social graph of interactions across a company so that managers can understand if their teams are "building the relationships they need to be successful". Just how success metrics are determined was not discussed. Privacy was assured.
While Webex is Cisco's most visible SaaS product, the company couldn't resist the chance to throw some new hardware at us. A forthcoming "Desk Hub" looks to offer an integrated screen and stand/wireless charger for smartphones and will identify users and their system privileges so they can pile straight into online collaboration even if they're using a hot desk in a COVID-shrunk office they may visit only occasionally. "Webex Desk" is a new 24-inch screen that can be used as a standalone client for Webex or an external monitor. Cisco already has a "Pro" version of this device on sale at four-figure prices. The new product is promised to be "affordable". Cisco also has a new 4K webcam for those tired of baked-in camera performance.
While some of these upgrades aren't new, or aren't major, Cisco does seem to have considered that the collaboration tools that have been so handy in 2020 were designed for a different reality and tried to have a guess at what's needed next.
The Register has asked if the new features change pricing and will update this story if Cisco replies. ®