Expect to work between Christmas and New Year as Brexit uncertainty continues, UK SAP users told
T minus 23 days and there will very likely be last minute export/import changes
As-yet undefined rules regarding the cross-border transportation of goods between the UK and the EU mean IT professionals supporting SAP installations in the UK can expect to be working between Christmas and New Year as the Brexit deadline approaches with no deal yet agreed.
Following the UK & Ireland SAP User Group (SUG) Digital Insights Symposium last week, chairman Paul Cooper told The Register the lack of certainly over Brexit arrangements – negotiations are currently going down to the wire with the transition arrangement due to end on 31 December – would mean a few extra shifts for those responsible for implementing SAP systems changes.
Recent UK&I SUG events, including a well-supported November webinar, showed SAP might have to create new export and import processes and try to fathom how the Northern Ireland question is dealt with, Cooper said.
"There's a lot to do in terms of even, whether there is a Brexit deal or not. We don't know what the deal is or isn't. It's quite scary. A number of organisations will have their IT and SAP teams working on those days between Christmas and New Year," Cooper said.
Along with trade arrangements, Brexit will also affect immigration. From 1 January, workers from the EU will no longer have the right to come and work in the UK, and UK employers will have more work to do to hire them. The UK will move to a points-based immigration system that will apply to EU and non-EU nationals, with points being awarded on a number of criteria including the salary of a job offer and the scarcity of skills needed to fulfil a specific role.
Cooper was optimistic companies would be able to bring the SAP skills to the UK necessary to support and develop software from the German vendor.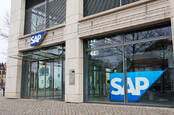 SAP's strength is the basics: Not RPA or AI, but 'consistent' data models that make sense for actual business processes
READ MORE
"We're seeing European workers drift back or drift over to Dublin. I think the points-based system that the government is bringing in will see SAP roles as reasonably well paid, with skills that are scarce. I suspect technology is one of those areas where we will see people coming in, as opposed to the government saying they can't, but we'll see what happens next year," he said.
A recent survey from the User Group, which gathered responses from 188 organisations, found 79 per cent were concerned about losing existing SAP skills. Salary (28 per cent), career enhancement (28 per cent), and opportunities to work on newer technologies (25 per cent) were cited as the main contributors for staff leaving.
Meanwhile, Cooper revealed the results from the User Group's annual member survey of 353 user organisations. It found 16 per cent were using S/4HANA, the latest version of SAP's ERP system, while 59 per cent were planning to use it. Of those planning to move to S/4HANA, 75 per cent said the move would be more than two years out.
In the same survey last year, which sampled 467 organisations, 58 per cent did not intend to upgrade to S/4HANA in the next two years while 27 per cent said they will not upgrade in the next three years. ®