This article is more than 1 year old
Facebook crushed rivals to maintain an illegal monopoly, the entire United States yells in Zuckerberg's face
Multi-AG, FTC antitrust lawsuits focus on 'the wrath of Mark', potential break-up of social media giant
Facebook illegally crushed its competition and continues to do so to this day to maintain its monopoly, according to a lawsuit filed on Wednesday by the attorneys general of no fewer than 46 US states plus Guam and DC.
The lawsuit alleges that the social media giant "illegally acquired competitors in a predatory manner and cut services to smaller threats – depriving users from the benefits of competition and reducing privacy protections and services along the way – all in an effort to boost its bottom line through increased advertising revenue."
America's consumer watchdog the FTC is also suing the antisocial network in a parallel action, and making the same basic allegations: that Facebook has been "illegally maintaining its personal social networking monopoly through a years-long course of anticompetitive conduct."
It's been a long time coming but the, as alleged, privacy-invading, competition-crushing Zuckerberg spin machine that is Facebook has finally been taken on by the United States.
Facebook has used its dominance and monopoly power to crush smaller rivals and snuff out competition, all at the expense of everyday users
The action is being led by New York's Attorney General Letitia James, and she wasn't holding back in her declaration of legal war. "For nearly a decade, Facebook has used its dominance and monopoly power to crush smaller rivals and snuff out competition, all at the expense of everyday users," she said. "Today, we are taking action to stand up for the millions of consumers and many small businesses that have been harmed by Facebook's illegal behavior."
She also highlighted the biggest complaint against Facebook by its users, a complaint that has been commonplace for nearly a decade, that it has made "billions by converting personal data into a cash cow."
In a statement, her department went on: "Facebook has operated as a personal social networking service that facilitates sharing content online without charging users a monetary fee, but, instead, provides these services in exchange for a user's time, attention, and personal data. Facebook then monetizes its business by selling advertising to firms that attach immense value to the user engagement and highly targeted advertising that Facebook can deliver due to the vast trove of data it collects on users, their friends, and their interests."
Driven by fear
The 123-page lawsuit [PDF] dives into how what was once just a website among many others became an online monster devouring anything in its path. "Facebook illegally maintains that monopoly power by deploying a buy-or-bury strategy that thwarts competition and harms both users and advertisers. Facebook's illegal course of conduct has been driven, in part, by fear that the company has fallen behind in important new segments and that emerging firms were 'building networks that were competitive with' Facebook's and could be 'very disruptive to' the company's dominance," the lawsuit stated.
If you stepped into Facebook's turf or resisted pressure to sell, Zuckerberg would go into 'destroy mode'
It quotes CEO Mark Zuckerberg directly and notes that the Silicon Valley goliath would ruthlessly buy up companies in order to "build a competitive moat" or "neutralize a competitor" in its bid for dominance. And notes that Facebook has "coupled its acquisition strategy with exclusionary tactics that snuffed out competitive threats and sent the message to technology firms that, in the words of one participant, if you stepped into Facebook's turf or resisted pressure to sell, Zuckerberg would go into 'destroy mode' subjecting your business to the 'wrath of Mark.' As a result, Facebook has chilled innovation, deterred investment, and forestalled competition in the markets in which it operates, and it continues to do so."
The lawsuit is a much tighter and angrier indictment of Facebook than a similar one lodged against Google in October by the Department of Justice. It still relies on traditional antitrust arguments, however, rather than trying to break new ground to deal with the modern internet era.
What's app Zuck?
The centerpiece of the lawsuit is Facebook's acquisitions of Instagram and WhatsApp, which critics have long argued should have been stopped and the apps should be broken away from the mothership because of the enormous power it gives Facebook across the market. Now America's prosecutors are demanding such a break-up.
From the lawsuit: "Two of Facebook's largest acquisitions, the mobile social photo app Instagram and the mobile messaging service WhatsApp, each posed a unique and dire threat to Facebook's monopoly. Each had enormous and rapidly growing user networks, and each was well positioned to encroach on Facebook's dominant market position. Facebook kept both services running after the acquisitions to fill the void, so they would not be replaced by another app with the potential to erode Facebook's dominance."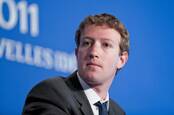 Mark Zuckerberg, 36, decides that having people on his website deny the deaths of six million Jews is a bad thing
READ MORE
But it also alleges that Facebook used its dominance of the market to kill potential threats to its monopoly: "When Facebook opted not to purchase a firm presenting a competitive threat, or was rebuffed, Facebook cut off access to key components of its immensely valuable network."
It goes on: "As part of its strategy to thwart competitive threats, Facebook pursued an open first–closed later approach in which it first opened its platform to developers so that Facebook's user base would grow and users would engage more deeply on Facebook by using third-party services… Later, however, when some of those third-party services appeared to present competitive threats to Facebook's monopoly, Facebook changed its practices and policies to close the application programming interfaces ('APIs') on which those services relied, and it took additional actions to degrade and suppress the quality of their interconnections with Facebook."
The lawsuit aims to "halt Facebook's anticompetitive conduct and the harm to the States, their economies, and their citizens that has flowed, and continues to flow, from that conduct; to prevent Facebook from continuing to engage in similar such conduct in the future; and to restore lost competition and enable future competition."
The only two states that haven't joined the action? Alabama and Georgia. ®
Facebook has responded... Jennifer Newstead, veep and general counsel at the social network, was equally fiery. "This is revisionist history," she told us in a statement that addressed the FTC's lawsuit though not the attorneys general.
"Antitrust laws exist to protect consumers and promote innovation, not to punish successful businesses. Instagram and WhatsApp became the incredible products they are today because Facebook invested billions of dollars, and years of innovation and expertise, to develop new features and better experiences for the millions who enjoy those products.
"The most important fact in this case, which the [FTC] does not mention in its 53-page complaint, is that it cleared these acquisitions years ago. The government now wants a do-over, sending a chilling warning to American business that no sale is ever final. People and small businesses don't choose to use Facebook's free services and advertising because they have to, they use them because our apps and services deliver the most value. We are going to vigorously defend people's ability to continue making that choice."
The internet goliath's full response can be found here.