Japan pours millions into AI-powered dating to get its people making babies again
Attempts tech fix to solve aging crisis
The Japanese government is splashing ¥2bn ($19m, £14m) to fund digital dating services powered by AI technology in an attempt to boost the country's flagging birth rate.
"We are especially planning to offer subsidies to local governments operating or starting up matchmaking projects that use AI," an official said, according to Japan Times. "We hope this support will help reverse the decline in the nation's birth rate."
The investment will be doled out to local governments next year, when the COVID-19 coronavirus pandemic will hopefully come to an end and singletons can safely be within six feet of one another again. Nearly half of Japan's prefectures already offer a dating service, where applicants submit details including names, ages, educational backgrounds, and incomes to look for a potential match.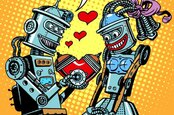 Match.com? More like Match dot-con, claims watchdog: Cyber-lonely-hearts 'lured into forking out to view bot spam'
READ MORE
Prime Minister Yoshihide Suga, however, reckons that the latest machine-learning algorithms could spice things up, and lead to more babies. Better software could take into account other factors, including a person's interests, values, or hobbies to predict the compatibility for couples.
Japan has a population exceeding 126 million, and has been steadily declining over the years as women have fewer children for a variety of reasons. It has one of the lowest birth rates; numerous schools and nurseries have shut down. The number of babies born last year hit record lows, falling under 865,000, according to the BBC.
A low birth rate coupled with people living longer lives means that it has an aging workforce that's shrinking, which spells bad news for the economy, hence the couples and baby drive. It'll be difficult for the Japanese government to provide welfare and healthcare as its population ages. ®