This article is more than 1 year old
Megabucks in funding, 28 years of research, and Boston Dynamics is to be 'sold to Hyundai' for 1/40th of an Arm
So what does that make it, a leg? A toe?
Boston Dynamics, the Softbank-owned robotics biz, is reportedly being sold to South Korean automotive giant Hyundai for $921m in a deal expected to be announced shortly.
Softbank and Hyundai have been in talks discussing the takeover for months, and will finalize details of the acquisition on December 10, according to newspaper Korea Economic Daily.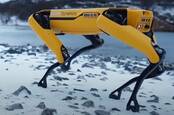 Meet the dog that's all byte and no bark: Boston Dynamics touts robo-pooch Spot with $75k-a-pop price tag
READ MORE
"As a global business entity, Hyundai Motor is continuously exploring various investment and partnership opportunities," a spokesperson for the automaker told El Reg on Wednesday. "As a company policy, we do not comment on market speculations."
The move won't come as too much of a surprise, considering Softbank's CEO Masayoshi Son is flogging off his organization's subsidiaries to make up for money lost on bad bets, such as WeWork. In September, the Japanese giant said it will sell Arm to Nvidia for a whopping $40bn.
Now, Boston Dynamics is next in line to go. The company, founded in 1992 by eggheads from MIT, has changed hands multiple times. It was first snapped up by Google in 2013, and later passed over to Softbank in 2017. The financial details of either deal weren't revealed, and it's said to have had $37m or more invested in it.
Boston Dynamics is best-known for its flashy demos; its robots can back-flip, perform 360-degree jumps, and other tricks, as seen in the video below. Its metallic canines can open doors and walk up stairs.
In June this year, it allowed the general public to buy Spot, one of its dog-like robots. At $74,500 a pop, the hardware isn't cheap. It's not to be used within homes, and so far it has been spotted patrolling parks and oil rigs.
Robotics is a difficult industry to crack into. Machine gymnastics looks cool, though the devices are clunky, expensive, and not terribly practical in the real world. We can imagine them having their uses in hazardous environments, and in carrying heavy loads to places vehicles can't reach. Largely research oriented, profitability has eluded Boston Dynamics. Hyundai, however, presumably hopes it can do a better job of turning the red ink into black.
Maybe the robots have a place somewhere in Hyundai's giant automobile manufacturing facilities, or perhaps its technology will go into building a fleet of autonomous delivery systems. Who knows? Is it Christmas, yet? ®